Her Christmas Cowboy by Jessica Clare is the fifth book in her Wyoming Cowboys series. Super shy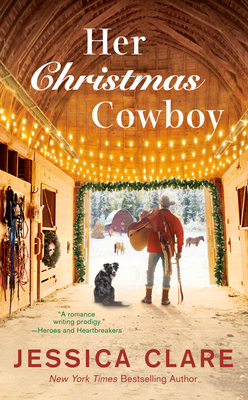 cowboy woos kindergarten teacher with Secret Santa gifts and the twelve letters of Christmas.
Amy Mckinney had one goal in mind after sneaking out of the house she shared with her husband Blake Todd. That goal was to make him her ex-husband. She needed to escape from the controlling jerk and live her own life as she pleased, not be Blake's pretty possession. She didn't even mind that the divorce meant her parents wanted nothing to do with her. Her father was just as bad as Blake.
That's how Amy found her way to Painted Barrel, Wyoming and the teaching job there. The job didn't pay a lot but the independence she now had was well worth it. Her rental was a dump and the landlord never got around to any repairs. That was a negative and got even worse when she got home from school one evening to the ceiling in her bedroom crashed down on her bed and a big hole in the roof led to the soaking of her bed. That meant selling more of her clothes to get the money to pay for the things she needed. And that's how she ended up spending time with Caleb Watson. Since he had volunteered to be Santa to go with her being Mrs. Santa at the school Christmas Carnival she had his number in her cell phone contacts. When her car broke down on her way home from the thrift shop and no one else was available to help her she called Caleb.
From that day on Caleb kept showing up and fixing things in her rental while he waited for a part to arrive because he was fixing her car too. Too bad he didn't talk to her during this time. One word answers and grunts were what she got. He was just so super shy. Amy couldn't quite figure out why he did all this for her but she liked it. She liked him.
Caleb Watson grew up in a very isolated area of Alaska. He didn't have many opportunities to interact with people other than his own family. Caleb and his two brothers moved from Alaska to Painted Barrel to help out their uncle. Caleb choked up around women especially. But he fell for Amy Mckinney the first time he saw her. Her call for help when her car broke down was his big chance. He had lots of trouble talking to her. He needed to up his game. His younger brother Jack suggested he become Amy's Secret Santa.
Unfortunately he wasn't her only Secret Santa. When Amy discovered who one of her Secret Santas was she was disappointed. She was not interested in him. Caleb thought that was a good thing. He told her he was her Secret Santa too. As Caleb spends more time with Amy he starts to talk more and then there were kisses and then…
I just loved Caleb Watson. I just wanted to wrap Caleb in a big hug, pat him on the back and tell him everything would be okay. It was great that Amy was so patient with him and appreciated what he did for her. Amy is such a sweet character. The fact that she took in a blind, starving dog made me really like her too. This is such an entertaining, sweet romance with some heat to it too. There's plenty of Christmas spirit in the story with the Christmas Carnival, decorating Christmas trees, Christmas shopping and Christmas parties. I look forward to the next book in the series.

Book Info:

Publication: October 13th 2020 | Berkley Books | The Wyoming Cowboy #5
From New York Times bestselling author Jessica Clare comes a Christmas Western filled with holiday cheer.
Caleb Watson has been crushing on elementary school teacher Amy Mckinney ever since he saw her. She's oblivious to his feelings–probably because he's never said a word to her. But when he learns Amy's going to be Mrs. Claus in the local Christmas celebration, he volunteers to be Santa so he'll finally have the chance to introduce himself. Even more than that, he'll use this opportunity to shower her with presents.
Amy's been receiving all kinds of Secret Santa gifts at work — and she has no idea who her secret admirer is. She wishes he'd make himself known so they can go on a date, though, because being a newcomer in close-knit Painted Barrel, Wyoming, is pretty lonely. When her flaky landlord claims he's the gift giver…it's not quite the bachelor Amy had in mind. However, she's doubly shocked when gruff newcomer Caleb Watson crashes her date and insists he's really the one leaving her presents.
Amy's not sure what to think. Caleb's never indicated that he likes her, much less wants to date. Can he prove to Amy he's not just the perfect Santa to her Mrs. Claus, but the man of her dreams?