Her Claim by Rebecca Grace Allen is the second steamy BDSM themed romance in her Legally Bound series.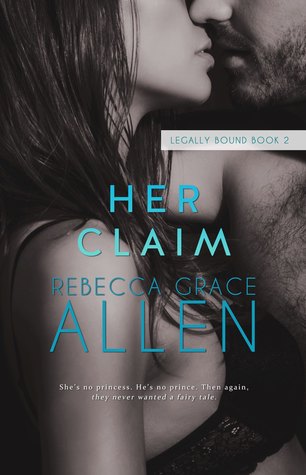 Laywers in lust (and love) are the stars here, and Her Claim takes an enemies to lovers trope and adds some fiery chemistry to make for an exciting and sexy read.
Cassie Allbright is a hard working, no nonsense attorney. She's half Cuban but keeps the Latino side of her character more subdued at work, already having to prove herself in a male dominated environment. She wants to make partner and knows her job is on the line if she can't deliver a big client soon. But that gets put on the back burner every time she encounters Patrick Dunham. He's in her circle ever since her best friend Lilly partnered up with his best friend Jack. At one point they seemed to almost hit it off, but since then things have gone markedly downhill, and Cassie thinks he's a chauvinistic man-whore, to put it bluntly. Yet she also feels an annoying attraction to him which irritates her to no end.
Like oil and water, Patrick and Cassie don't seem to mix. Patrick fully admits that he loves to annoy and anger Cassie and goes out of his way to do so when they are together just to get a reaction out of her – because a reaction is better than indifference. For whatever reason, it turns him on to see her eyes flash and their verbal sparring is a kind of foreplay. In fact, one night, it goes in a brand new direction when Cassie dares Patrick to show her what she's been missing, and he obliges. Suddenly, these two enemies are finding that they have a lot in common, such as an interest in the same kind of kink. With Patrick, Cassie finds a man she can trust with her deepest desires because he's always been blunt and truthful with her and she with him. Their sexual encounters lead to shared confidences and a true friendship. Will what started out as a dare become a real relationship?
I really enjoyed this story! Quite honestly I was not a fan of Patrick at the start, as his actions were definitely in jerk territory but he really grew on me and redeemed himself quite quickly. He's been forced into taking a position in his deceased father's company in order to support his mother or lose his inheritance so he's reluctantly running the global sales department of his father's publishing house. To distract himself from his unfulfilling (if well paying) work life, Patrick indulges in sex but lately his encounters with women have been unsatisfying – quick trysts for mutual pleasure but with no desire for second nights. With Cassie, things are instantly different. Their first time together is explosive and he wants more.
The kink in this story may not be for everyone. There is some rough sex, breath play, and consensual non-consent scenes, things Cassie is interested in but wouldn't trust with another partner. Patrick makes her feel safe. I like the way the author has Patrick remind Cassie of her safe word, pays attention to her responsiveness in a scene and provides immediate aftercare. You can see that Patrick really cares about Cassie and that that he enjoys their play together because she enjoys it too. She gives him the freedom to express his own sexual desires and while Cassie and Patrick don't have a Dom/sub relationship, she enjoys being dominated in a scene and he loves being the one to 'tame' her. But outside of play scenes they have a very equal relationship.
As their friendship develops, Cassie and Patrick confide in each other about many things in their lives, including their relationships with family. Patrick and his mother have a strained relationship, the opposite of Cassie's affectionate and sometimes opinionated family. They are both wary of commitment and getting overly involved, which goes by the wayside as they start to really care for each other. They help each other make decisions about their careers and professional plans for the future even as they have trouble figuring out how to align their own personal future plans into one that will work for them together. Fortunately they figure things out for a very satisfying ending. With complex characters and an engaging story, this steamy romance is a must read for BDSM romance lovers!

Book Info:

Publication: April 23, 2018 | Self Published -Rebecca Grace Allen | Legally Bound #2
She's no princess. He's no prince. Then again, they never wanted a fairy tale.
Cassie Allbright takes no prisoners. A half-Cuban ball-busting attorney, she's too tough to admit what she wants in bed. But tough is the only way to cut it in her high-powered firm, and Cassie doesn't need a knight in shining armor. And she definitely doesn't need Patrick Dunham—an arrogant, chauvinistic man-whore with a knack for pissing her off.
Bound to the helm of his family's publishing house, Patrick is shackled to a life of power and wealth he never wanted. Seduction is his only distraction—his nights of pleasure always temporary, because happily-ever-afters are not for him. But while luring a woman into his bed has always come easy, the high-and-mighty Cassie has never succumbed to his charms.
Their verbal sparring turns to foreplay, but instead of scratching an itch, it only whets their appetites. Patrick gives Cassie a taste of what she's secretly craved, and Cassie's dark desires stir up things Patrick never knew he wanted. Enchanted, he offers to fulfill her most dangerous fantasies. She agrees, with an iron-clad escape clause: her heart is off limits, and so is his.
Funny thing about hearts, though. They have a way of ignoring the fine print.