A Duke Like No Other (Playful Brides #9) by Valerie Bowman: General Mark Grimaldi needs a wife to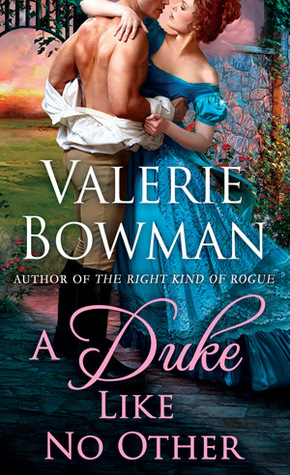 further his career. His goal is to become the next Home Secretary in England. Wait a minute! He already has a wife. Too bad they are estranged and haven't seen each other in ten years.
As far as Mark knows his estranged wife, Nicole Huntington Grimaldi, is still living in France. But Mark has a plan. He will go to France, surprise Nicole and ask her to do a favor for him and act as his loving wife for a short period while he secures his promotion. Great plan! Nicole has a better plan though – agree to do Mark this favor as long as he agrees to do her a favor. Mark agrees and they head to England together. It all sounds so simple, but life has a way of making the simple things turn out to be a little complicated. In this case life turns out to be a lot complicated.
Valerie Bowman has an excellent addition to her Playful Brides series in her latest book, A Duke Like No Other. As usual she has written in some very entertaining characters in this story. In addition to the very likeable and intriguing main characters, General Mark Grimaldi and his estranged wife Nicole, the author has added secondary characters who provide some fun in this story. Be on the lookout for Aunt Harriet and her contribution to a very important interrogation Mark does. Adds some humor and I always appreciate that in a good story.
I love Historical Romances with mystery and intrigue. A Duke Like No Other is filled with mystery. With Mark being a spy and Nicole being an "assistant" to the Bow Street Runners there's lots of investigating going on and surprise solutions to mysteries. If you want to see who solves the mysteries, you will have to pick up a copy of this book and start reading.
Book Info:

Publication: May 1st 2018 by St. Martin's Paperbacks | St. Martin's Paperbacks | Playful Brides #9
General Mark Grimaldi is devoted to his service for the Crown, risking his life and giving up everything for his career. The political promotion he's always wanted is now within his reach, but he needs to convince his estranged wife to return to England and play the role of happy bride in order for him to get the position.
Nicole Huntington Grimaldi has spent the past ten years in France, not having seen her husband since she left England. But now he's on her doorstep, asking her to return with him, and Nicole sees the opportunity to get something out of this deal. So she agrees, on one condition: she wants a baby.
A Duke Like No Other is a Regency spy caper with Valerie Bowman at her best as husband and wife match wits and may just fall in love in the process