In Her Enemy Protector (Tempt Me #2) by Avery Flynn, Secret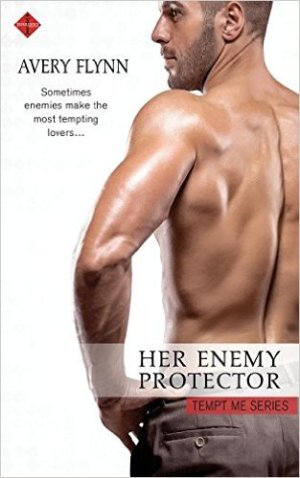 Agent Lucas Bendston is a man of honor. He's ruthless when it comes to things that matter to him and willing to do whatever it takes to protect his country. So, blackmailing Ruby McIntosh into introducing him to her mobster step-father in order to stop him from selling weapons to terrorists shouldn't be a problem. Yet, the more time he spends with Ruby, the more he finds she's nothing like he's been led to believe. Can he keep her safe while making sure his mission is successful?
="Do you ever get tired of it? The lies? The pretending?"
Deflection came naturally. "I could ask the same of you."
"If you did, I would tell you I am tired of it. I'm tired of it all – the manipulations, fake emotions, hidden resentment, secret agendas." Weariness crept into her words, marrow deep exhaustion at the bullshit of it all. "At least you were up front, in your own weird way, when you blackmailed me into coming back here."=
Ms. Flynn always manages to entertain me with her books, but this series – I believe — is her best. Right from the beginning, this book was highly entertaining, fast-paced and one I could not put down. Not only because it encompassed a hero willing to blackmail the heroine to get what he wants, but because it encompasses the fake relationship trope; a trope I've been reading more and more of lately and am really starting to enjoy.
="I could pick a lock by four, hit a distance target with a throwing knife at eight, and by ten I could get to every cave and hideout on the island undetected."
"And you decided to be a jewelry designer instead of a ninja warrior?"=
Both the main characters were incredible, and their back stories had me hooked. Ruby is strong, brave and I liked that she's determined to help Lucas. Even when she's done her best to get as far away from the dangerous world her stepfather is involved in. So, at the same time, I couldn't help but feel sorry for her in what Lucas is doing by giving her no choice but to be dragged back into her stepfather's world. Certainly, Ruby challenges Lucas and keeps him on his toes. Will she ruin his mission? If she does, is she going to be able to accept the consequences if her stepfather manages to make the deal Lucas is looking to stop? While Lucas, he had a tough upbringing and has accomplished so much through his ruthlessness and determination to make a better life for himself. Also, what he did to survive his childhood is why he's so good at convincing Ruby that his plan won't fail. Because Lucas's real name means something to a lot of bad people.
Overall, this was a really good second book for Ms. Flynn's Tempt Me series where the sex scenes were hot and this story never ceased to surprise me with its twist plots. Such as the heroine not knowing the truth about the work her brother does and what the heroine does to make certain the bad guys will no longer hunt her down for revenge. The way this story ended had me cheering for this couple's happy ever after. The words exchanged proved how much Lucas believed Ruby was worth fighting for and there was no way he could let her go. Not when she went to so much effort for a fresh start and a way to protect her and Lucas. I would recommend Her Enemy Protector by Avery Flynn, if you enjoy the forbidden romance trope; or a story encompassing a hero doing everything possible to obtain the heroine's help, even if he has to resort to blackmailing her.
Book Info:

Publication: November 14th, 2016 | Entangled Indulgence | Tempt Me #2
By-the-book secret agent Lucas Bendtsen will do anything to keep his country safe—even if that means blackmailing the stepdaughter of a notorious mobster who is about to sell guns to a group of terrorists. The plan? He'll pose as her fiancé in order to access her stepfather's guarded compound and find out the location of the arms deal. The problem? Despite her reputation as a heartless femme fatale, Ruby Macintosh is not at all what she seems.
Only a fool would double-cross the Organization, but Ruby doesn't have any choice—not if she's going to save her brother and mother from her stepfather. So she places her life in the hands of a man who turns her on as much as he ticks her off…
The fake engagement may be the beginning of a high-stakes game of subterfuge, but when their hearts get involved, Lucas has to decide whether to break the rules or break Ruby's heart.