Her Favorite Temptation by Sarah Mayberry: Leah Matthews is the good sister. She's grown up to be everything that her parents want her to be. But is it what she wants? The answer to that question is a resounding "no". So she decides to veer away from being a surgeon – to her mother's amazingly persistent disdain. Doesn't matter she's still going to be adoctor, her mum was living vicariously through Leah, and this change simply wouldn't do.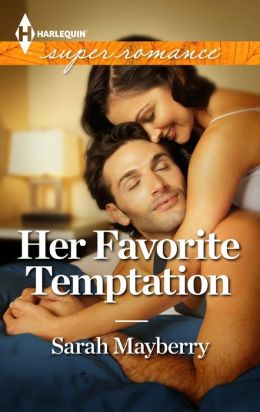 Will Jones, a hot (in more than one way) musician, is awaiting surgery to rid him of a brain tumor. He was riding high on his musical success when headaches and aphasia sent him to the doctor. As the co-author and guitarist of his duo, he knows that even the surgery can end his career. Staring at his mortality at the end of the barrel, he retreats to a rented condo to await treatment.
When Leah steps out onto her deck to have a discussion with herself, she hears the new neighbor playing guitar and singing. He's amused by her soliloquy, and leaves her in peace. But Leah can't get the song out of her head. Turns out she's probably the only person in a 100-mile radius that doesn't know the tune by heart. Will kinda likes that.
As the pair get to know each other, they become reluctant friends. Leah's not sure what her life's about at the moment, and Will wasn't willing to let someone in to see his pain and crisis. But life has other plans. The night before he goes under the knife, Will finally gives in to his attraction, which Leah has been ready to do for quite some time. He leaves her a note as she sleeps, ready to let her off the hook in case something drastic happens to him.
Good news for him, Leah's not that kind of person. She refuses to leave him when he desperately needs someone – and even though Will isn't sure about having her in his life, he can't imagine his life without her.
There's a side story concerning Leah and her sister, Audrey – which is touching and sweet – and it sets up the sequel "Her Favorite Rival" – Audrey's story.
I love Sarah Mayberry. I fully admit my bias. But it's deserved. She's an amazing author, and this book left me crying silent tears for Leah, Will, and Audrey. Can't wait to see things from the "bad" sister's side.
Book Info

Publisher: Harlequin Superromance (July 28, 2013)
Two people facing crossroads in their lives discover friendship and love in this touching novella by fan favorite Harlequin Superromance author Sarah Mayberry.
Leah Mathews has always been the good sister, the favored one who could do no wrong. But as her thirtieth birthday looms, she's ready to step out of her parents' shadow and make changes in her life. Shes even more inspired by the sexy musician who moves in next door and his seize-the-day attitude. And tempted to take comfort in his arms…
Will Jones is facing the prospect of losing the career he loves—and possibly his life—to a sudden illness. When he meets Leah, he feels a powerful connection to her, and flirting with a smart, beautiful woman seems like the perfect way to spend the weeks before his risky operation.
But as their relationship heats up, Leah still doesn't know the truth about Will's situation. Will their bond be strong enough to face the challenges yet to come?
**Read about Leah's sister in Sarah Mayberry's next contemporary romance from Harlequin Superromance, Her Favorite Rival.