In Talking Dirty with the Player by Jackie Ashenden, 26-year-old enterprising photographer, Judith Ashton, believes her controlled existence suits her just fine. That is until she comes face-to-face with her brother Joe's best friend and her first love, Caleb Steele. Judith has no idea that one of the primary reasons Caleb left her eight years ago was because Joe told him to stay away. Caleb has worked very hard to become New Zealand's top rugby superstar and as such, reaps the benefits of celebrity and being a notorious womanizer.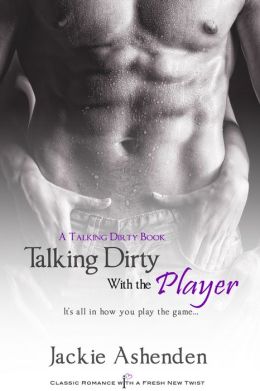 Joe, Caleb and Luke, another good friend, are putting together a charity fundraiser. The fundraiser includes a unique auction of things or services that may be useful to other people, in addition to a calendar. The three of them agree that Judith should be the calendar's photographer, because her exemplary eye will undoubtedly increase her clientele and make the calendar a huge success. But due to Caleb and Judith's history, it may take a miracle for her to come on board. However, once Judith finds out about the Save A Life charity, she jumps at the chance to volunteer her services.
The chemistry between Judith and Caleb has never fizzled. In fact, it is hotter than ever. The more time they spend together, the more their sparks ignite. They get to truly know and learn about each other. Spending time talking is just as hot as mind-blowing sex. They have rekindled their love of years ago and it is better than ever.
Unfortunately, Judith is finding it very difficult to forgive and forget the past, and now the present, when an incriminating, yet innocent photo of Caleb with another woman is splashed across every newspaper in the country. Judith knows the photo is bogus, because she knows the real, unselfish, good-natured Caleb. However, Joe continues to warn Caleb about hurting his sister and not being good enough, which only causes Caleb rethink their relationship. These uncertainties, along with the fact that Caleb is at the end of his rugby career and is accepting a job as a broadcaster in Australia, compels Caleb to end things with Judith, hurting her once again.
The auction and calendar are huge successes, bringing lots of cash into the Save A Life charity. Joe finally accepts that Judith and Caleb are in love with each other. And in a grand gesture, Caleb announces his love to Judith in front of auction community and they live happily ever after.
I liked this story. It is a quick read and the characters are well developed and totally believable. If you are looking for a well-written book with a smattering of spice, this book is for you.
Book Info

Publisher: Entangled: Indulgence (August 12, 2013) |A Talking Dirty Novel
Up-and-coming photographer Judith Ashton is pretty sure she has everything in her life under control. That is, until a blast from the past comes back to taunt her, in the shape of Caleb Steele, her older brother's best friend–the same man who broke her heart eight years ago. Their chemistry is combustible, but she's been fooled once by this player, and she's not going there again.
To pro rugby player Caleb, Judith has always been Kryptonite, but his former playboy lifestyle is the last thing she wants to be involved in, and he can't blame her. In the midst of her brother's threats to back off, and the deal of his career sending him far away from her, he knows he's playing with fire. And this is one game he's going to lose.