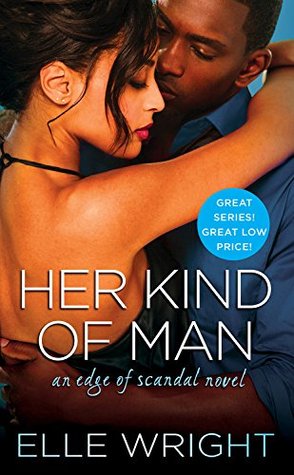 Her Kind of Man by Elle Wright is a refreshing romance that begins with trust and friendship.
Allina has loved her friend Kent for a while, but he's made no moves for her to think he reciprocates her feelings, so she moves on with Isaac. Isaac is a minister who knows all the right words to make Alina think he loves her. When she agrees to marry him, Kent and Allina have a disagreement about the type of person he is. Kent believes she's making a big mistake and has no problems tell her that, but when Allina asks Kent for a reason not to marry him, Kent doesn't give her the answer she needs.
Allina's fiancée is crazy. When Allina overhears a woman calling him evil, she confronts him about the conversation and he shows his true colors by threatening her and her family if she doesn't go through with the wedding. But Allina knows she can't go through with it and runs away…to Kent.
Kent loves Allina but his track record with women is weak. He gets bored easily and moves on and doesn't want that to happen with Allina. He treasures her friendship and plans on keeping it platonic. He knows Allina is in love with him, but he can't risk their friendship for a relationship that might not work out. Kent had a previous relationship with a friend that didn't work out and now he's scared to go that route with Allina, but with Allina in danger, he will do everything to keep her where she belongs…with him.
I loved Kent and Allina as characters. They both have baggage and events that happened to them in the past that made them the way they are today and it will take unconditional love for them to move on. Kent was there for Allina in every way and he was patient with her, especially when she reveals her virginity status. Their relationship was built on a strong friendship, which only developed deeper into something special as they fell in love. Slow and steady wins the race for this couple. This book is filled with strong romance, complex characters, suspenseful situations, and a love like no other.
Her Kind of Man is the third book in the Edge of Scandal series but can be read as a standalone. I haven't read the first two books but I am making it my mission to read them when I have time.
Book Info:

 April 26th 2016 | Forever | Edge of Scandal #3
When Mr. Right is oh so wrong
I'll never let you go . . . Allina had always dreamed of hearing those words. But when her fiancé, Isaac, utters them, it isn't a promise-it's a threat. Scared and confused, with only moments before the wedding, Allina knows what she must do. Forget walking down the aisle; it's time to run. Back to Michigan. Back to Kent.
Kent has loved Allina for longer than he can remember. Out of respect for their friendship, he's never crossed the line, but when she turns up on his doorstep wearing her torn, tearstained wedding gown, the fire inside him ignites. He'll do whatever it takes to make Allina feel safe-like the beautiful, desirable woman she is. But as Kent and Allina grow closer, and their passion pushes deeper, it's clear that something bigger than a botched wedding still lingers between them . . .