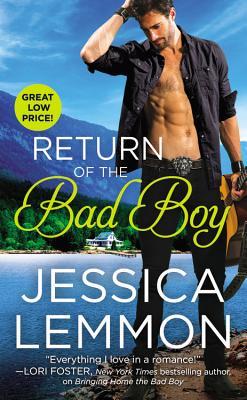 Return of the Bad Boy (Second Chance #4) by Jessica Lemmon: I have been waiting for what feels like forever for Asher Knight and Gloria "Serge" Shields to get their HEA. I know that it has been said before, but I feel like I need to say it yet again, nobody, but nobody can write a bad boy like Jessica Lemmon. Each and every one of her bad boys has depth, strength, they can be tender, rough, tough, and oh so bad. This is the long awaited and oh so worth the wait story of Asher and Gloria.
Asher Knight, rock god with pantie dropping good looks is never for a lack of female attention. He has had his share of groupies and loves the life of a rock star. Does he have regrets, not when it comes to his music, but when it comes to Gloria he as many. That she thinks that he slept with a groupie when they were together, yep, regret. That she refuses to listen to him and allow him to explain, yet, regret. That he fathered a child with said groupie after one night 3 years ago, nope, no regret there. He loves his son, Hawk, and wants nothing more than to be the best dad he can be. To convince Gloria to forgive him and allow him back in her bed, that would be a bonus.
Gloria Shields has has more let downs in life than anyone. When she was taken away from her drug abusing parents and placed in foster care at the age of 16, she was lost. The people that were suppose to love her unconditionally left her high and dry. Gloria has trust issues, Gloria has abandonment issues. Gloria feels unworthy of being loved, and the fact that Asher keeps pushing his way into her life, pushing her outside of her comfort zone confuses her more than anything.
What I loved most about Asher and Gloria is that these two had a chemistry that was so hot that no matter how much Gloria fought it, anytime that they were in the same room, the would just simply gravitate into each others orbit. The fact that Asher saw Gloria, knew how hard it was for her to lean on someone else, yet he fought so hard to break through her walls to show her that he was not going anywhere. That he would always be there to catch her.
The way that Gloria stood up for Asher, stood up for Hawk, fought for them is a testament to how much she really did care about the both of them. Her fears that she was not good enough, the fear that she could not be what Asher and Hawk needed, was heart breaking at times. But Asher showed Gloria that she was more than good enough, that she was the only person that could fill their lives with love.
I have loved each and every book in this amazing series. This book could be read as a stand alone without losing the reader. I for one have read each and every book and they just keep getting better and better and better. The fact that we get to keep coming home to visit with friends from the previous stories is such a bonus. Highly recommended for anyone the loves a bad boy who know how to turn on the charm and will not back down when he sets his mind on winning the heart of the woman of his dreams.
Book Info:

 Expected publication: April 26th 2016 | Forever | Second Chance #4
He's a mess…
Asher Knight has three constants in his life: music, beautiful women, and a bottle of Jack. He lives for the next gig, the next city, and dreams only of a life spent in front of an arena full of screaming fans. But Asher's nomad ways come to a sudden stop when he learns he's the father of a three-year-old from a past relationship and suddenly this rock star bad boy is forced to put down roots.
Only she can clean up
Gloria Shields is no one's fool. Sure, the sexual chemistry between her and Asher has always been intense, but she'd never risk giving her heart to a man who has a perfect record for breaking them. Except the man desperate to make things right with his newfound son is nothing like the rock god she's guarded her heart against for years. And it isn't long before she starts to wonder if life with this bad boy might be the best thing that's ever happened to her.