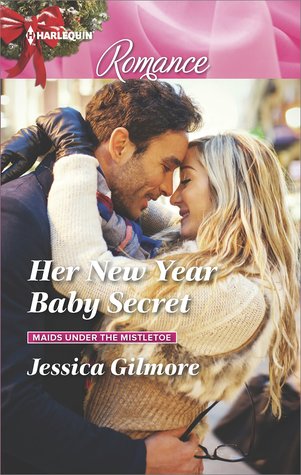 Her New Year Baby Secret by Jessica Gilmore: When you aren't looking, when you aren't planning the best things in life somehow seem to just show up.
Sophie Bradshaw wasn't unhappy, but she wasn't exactly happy either. She had been stuck for so long that she wasn't sure how to move on. Her friends were all finding love and happiness but she was sure that wasn't for her. She would like to not be so lonely though. Then one night in the snow everything changed.
Marco Santoro world had been flipped upside down and soon he was going to have to face it. Soon he was going to have to go home and take the reigns of things he really didn't think he was ever going to have to, at least at no point soon. But those were thoughts for a later time for now he was just going to move on, until the snow and being walked into.
The snow hit and with it two people drew into each other what would happened over the course of the evening? Is it possible that the warmth they felt would last a lifetime?
Ms. Gilmore completes this four book series with a wonderful love story. Possibly the sweetest of all four it can be read as a stand alone but wonderfully completes the series. The story is well developed and not over written. The details are clear, the emotions make you feel the story and breathe life into the pages. This is a wonderful love story sure to bring a smile into your heart.
Book Info:

 Expected publication: January 3rd 2017 | Harlequin Romance | Maids Under the Mistletoe #4
The Italian millionaire's secret heir!
Waitress Sophie Bradshaw is used to being ignored at glamorous parties and, bruised by a disastrous relationship, that's fine by her. Until Marco Santoro offers her his jacket, leading to a magical Christmas evening together
Exasperated by his family's matchmaking, millionaire Marco never gets close to anyone. But one heart-stopping night with Sophie isn't enough, and he invites her to his Venetian palazzo. Little does he know that Sophie is bringing one tiny, life-changing surprise with her!