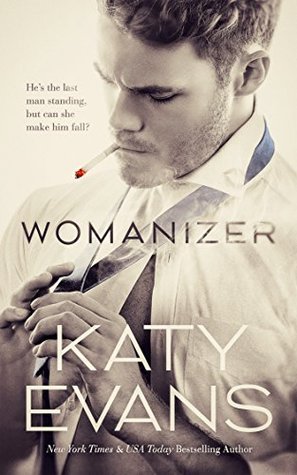 In Womanizer (Manwhore #4) by Katy Evans, Olivia Roth knows she has the chance of a lifetime when she gets off her brother Tahoe's private jet in Chicago to start her internship at Carma Inc. She has a plan to start her own business by her mid-twenties and Livvy's not deviating from that plan for anything or anyone. But then she meets an enigmatic, crazy-sexy guy on the terrace–who she dubs Hot Smoker Guy–and it throws her off her game plan. Just one chance meeting with him and Livvy knows she's not going to be satisfied until they get some quality alone time together.
'Is it wrong? That I'm waiting for him to make a move? This is scandalous. This little secret thing between us. A little bit dangerous.'
When Hot Smoker Guy turns out to be Callan Carmichael, the CEO of Carma Inc, she's a bit horrified, knowing that things just got even more complicated. Because not only does he own the company she's interning at, but he's also her brother's close friend. Callan is known as a heartless businessman and a serious playboy. Livvy's been warned away from him by her brother and new friends in Chicago. But one night together is all it takes to convince her that Callan might be the only guy for her. And the only one who can make her rethink her plans for the future.
'God. Loving this man has been both the easiest and the most challenging thing I've ever done.
I want to be that girl who finds love and just takes it.
But what about my career?'
The sparks of attraction definitely flew in Womanizer, Katy Evans latest installment in the Manwhore series. Just when I thought the romances couldn't get any more intriguing or scintillating, we got up close and personal with Callan and Olivia, who took things to a whole new level.
'Before her, I never wanted to be better or worthy of a single thing. You don't need to be worthy of what you own if you can afford it. But the love of your girl…that's something a man needs to own.'
Womanizer can be read as a standalone but for those of you who have read the other books in the series, I think you'll be thrilled to finally get a chance to know Callan better. And let me say that he surprised me–in a good way. I wasn't expecting to like him so much or to truly want to see him and Livvy get a stellar HEA but that's exactly what happened. And I think that's part of the beauty of Katy Evans' writing. She has a way of taking characters that I'm not really sure of and just blows me away with their depth and their genuineness.
Callan was basically the 'last man standing' in his circle of friends. The last holdout in getting involved seriously with a woman. I liked that he was honest about not being interested in a long-term relationship at that point in his life, knowing his own mind well. But of course Livvy changed that quickly. Their meet-cute had me laughing, especially when she became the aggressor and with Callan trying to resist her charms. I loved how he changed and grew as they got to know each other and that she was able to bring out the tender (but still super sexy!) side in him.
Told mainly from her POV, Livvy was every bit as young and lively as I was hoping she'd be from the glimpses we've had of her in previous books. I liked that she had a plan and was serious about her life. But it felt realistic that with as hard as she worked to get through college and win an internship, that she would hold on maybe a bit too tightly to that plan. Callan was an unexpected complication that threw her off course but in the best of ways. I loved that he challenged Livvy at work and that they learned so much from each other, both personally and professionally. As always with Evans' characters, there was a lot of emotional substance to their relationship with just enough angst to make things feel right.
Hot, hot, HOT! Things might have sizzled between Olivia and Callan but it didn't take away from the real emotions their story was based on. I think romance fans will fall for them and their wonderful group of friends just like I did.
Book Info:

Published December 5th 2016 | Published by Simon & Schuster | Manwhore #4
A sexy new contemporary standalone romance by New York Times and USA Today Bestselling Author Katy Evans.
You've seen the headlines: Womanizing billionaire player! Watch out! Stay away!
We were just two strangers. Facing a forbidden attraction, a chemical connection. Neither of us expected or wanted it to amount to more.
But I had never been drawn to a guy the way I was drawn to this one: my brother's best friend, and CEO of the company where I interned.
Even knowing I should stay away, I proved to be too human, after all.
The chemistry was amazing.
The laughs were incredible.
I opened up to him in more ways than I'd opened up to anyone before.
But sex was as far as I'd go.
Just sex because he was too irresistible.
Just sex because I wouldn't be falling for him.
Just sex because I'd leave in three months, and I'd like for my brother not to kill me, and for nobody to find out he was my wicked little secret.
He wasn't the One.
He was just a womanizer.
But for a time, he would be mine.