Her Return to King's Bed by Maureen Child: Rico King has been searching for his errant bride for five years. He should've known at the time that she was too good to be true. He'd fallen head-over-heels for Teresa Coretti, but she'd been using him to help her family's "business". They were thieves. Well known, notorious, yet utterly uncatchable thieves. At least until now…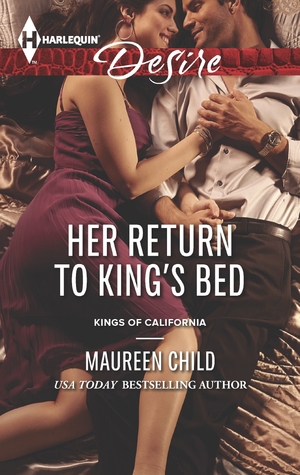 Teresa can't believe her father and brother are doing this to her. They've gone to Tesoro for their latest series of robberies. Their M.O. is to take up residence in a high-end hotel or resort, act like a patron (easy enough to do since they live that lifestyle anyway), and slowly gather jewels from the other guests here and there. When things start to heat up even a little, they casually make their way out of the area. But this… this is a first – they've decided to target her ex's luxury hotel, the Tesoro Castle.
Once Rico puts two and two together, he recognizes the pattern of the criminals taking things from his guests. There's no doubt in his mind that it's the Corettis. When Teresa left him without a trace all those years ago, he was also missing another piece of property. After doing some research, he figured it out – she had a hand in it's disappearance. Now he wanted his heirloom back – and revenge on his wife and her family.
What's a girl to do? Let her husband (who isn't an ex, thanks to some maneuvering on his part) call interpol and present them with evidence he's gathered on her family, or stay with him until his property is returned to him? She doesn't really have a choice. Teresa has never condoned nor participated in her family's illegal activities, but they're her blood. She can't stand by and see them sent to prison for the rest of their lives. But Rico wants more – he wants her out of his system for good, and he wants his revenge.
This story read like a cross between a HQ Presents and a Desire title. Rico is steaming hot, and even though I knew the story wasn't what it seemed, I felt like he was justified in his anger. Of course like most stories, there's another side – and Teresa takes her time telling it, but she manages to get everything on the table. At the halfway point of their month-long bargain, there are decisions to be made – tough ones – on both sides.
One last thing, I'm definitely not a fan of Teresa's father. Not that he's evil, but he plays pretty fast and loose with his daughter's life until it's actually made clear that she's in danger. BAD DAD!
Book Info:

Published December 3rd 2013 by Harlequin Desire (Book 2269) | Kings of California
Revenge has never been so sweet as in this Kings of California novel by USA TODAY bestselling author Maureen Child
She married him. Used him. Then left him. Rico King has waited five years for revenge. Now he's got Teresa Coretti where he wants her. To save her family, she'll return to Rico's island and his bed for one month. That will cure the hunger that's afflicted him since she left. But Rico can't know what it cost Teresa to leave him. Nor the exquisite torture of being with him again. Because soon, her divided loyalties could once again cost her the love of her life.