Her Scandalous Pursuit by Candace Camp is the seventh book in the Mad Morelands series, but it is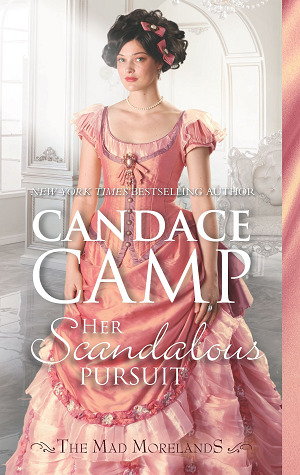 actually the prequel to the series. It is the story of Lady Thisbe Moreland, the oldest daughter of the Duke of Broughton. Thisbe has six other siblings and they all make an appearance in this book. The Moreland family is known as the "Mad Morelands" by society because they are an eccentric family. They are a large, boisterous, and loving family.
The prologue of the book starts off with the scene of a brilliant, alchemist named Anne Ballew in 1556. Anne had created a powerful instrument (later known in the book as the Eye of Anne Ballew), and some people said it allowed her to speak to and raise the dead. She knew her enemies were coming to seize her and her creation, so she sends her husband and children away to save them. She tries to destroy her creation, but she is too late. Her enemy seizes her creation and she is burnt to death for witchcraft.
We are then introduced to the main characters, Thisbe and Desmond Harrison, in 1868 where they meet each other at a scientific lecture in London. Thisbe is dedicated to her scientific studies in chemistry and has no desire to participate in a Season or Society events. When Thisbe and Desmond meet, Thisbe didn't introduce herself as the daughter of a duke. Desmond knew she was a lady and that his chances of winning her were not high, but he was intrigued by her.
Desmond was working on a project with Professor Gordon, who was criticized by other scientist due to his obsession with ghosts and spirit photography. Gordon and his sponsor, Mr. Wallace, were obsessed with locating the Eye of Annie Ballew. Unfortunately, no one knew what it looked like and there were no drawings or descriptions. They were finally able to trace the Eye and discovered it was in the possession of the Dowager Duchess of Broughton. When the Dowager would not let them buy or study it, Wallace and Gordon decide to steal it and pressured Desmond to be the one to do it. Once Desmond realized who Thisbe was, he knew he could not go through with stealing the Eye.
The author does a great job of pulling the reader into the mystery of the Eye of Anne Ballew. Once I started to read it, I couldn't stop until I finished the book. Thisbe's supernatural dreams, the power the Eye seemed to have, and the Dowager's prediction that Desmond will cause Thisbe's death kept me riveted until the end. The book is good as a stand alone but it does draw this reader's interest in the rest of the series!
Book Info:

Publication: January 28,2020 | Harlequin Books | The Mad Morelands
The long-awaited prequel to the Mad Morelands series—the story of Thisbe, the oldest Moreland daughter.
Thisbe Moreland is used to men not taking her seriously. As a scientist, she's accustomed to being the only woman at lectures and meetings, her presence met with scorn and derision. So it comes as a pleasant surprise when she sits next to a handsome young man who is actually interested in having a conversation about science.
Desmond Harrison cannot believe his good fortune when he sits next to Thisbe—she's intelligent and incredibly beautiful. He longs to see her again—but he's ashamed of his low birth. Not to mention his employment with the infamous Professor Gordon, a formerly respected scientist who turned to spiritualism and is now deeply scorned.
When Professor Gordon demands that Desmond recover an artifact for him—an ancient object reputed to have terrible power, known as the Eye of Annie Blue—Desmond realizes that only Thisbe holds the key. Desmond must choose between his love for Thisbe and his loyalty to his mentor…but humanity's very future will depend on his choice.