Today, HJ is pleased to share with you

Sinclair Jayne's

new release: 

A Baby for the Texas Cowboy

Neither one of them had any intention of settling down…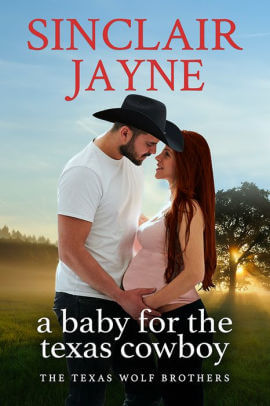 Tinsley Underhill left everything behind five years ago and hasn't looked back. She loves life on the road following the American Extreme Bull Rider's tour representing sponsor Four Wolves Whiskey. She rocks sales and pouring shots, and the bull riders are a sexy perk. She exults in the flirting and the chase, but when she lets her favorite champion catch her for a steamy fling, she knows they both have one foot out the door.
Bull rider Anders Wolf is on top of more than just the leaderboard. Life is good. Women are better, especially the intriguing and gorgeous Tinsley. The fireworks are more explosive than he imagined, but even the best mind- and body-blowing pleasure must end. No way he'll be roped early…then Tinsley's casually announces she's pregnant. Anders intends to do the right thing, but Tinsley's plans don't include him, marriage or happy ever after on his Texas ranch.
Anders has never backed down from a challenge, and he's not about to start now.
Enjoy an exclusive excerpt from A Baby for the Texas Cowboy 
Late June
Anders Wolf kicked back in the white wood rental chair, easily balancing on two legs, and surveyed the crowd dancing in his family's large and supposedly haunted East Barn. His two older brothers had married today. Anders had written two speeches as the double best man. Both had killed. He'd worn a western-style tux without complaint—that had been easy since the tux had been a gift from a designer for doing a photo shoot earlier this year for a men's athletic magazine. He'd posed for pictures—he was used to that with his career as a top bull rider—toasted the brides and grooms, danced with both sisters-in-law. He'd even choked down a few bites of each heavily frosted wedding cake.
He would have preferred pie. Apple.
He took out his phone and brought up the list he'd started when his best friend had married several years ago. He added pie to the list and then in parentheses Char-Pie, a local Last Stand Texas shop where two sisters baked and served the best pie in the country. Anders knew. He traveled a lot.
He read through his list. Short. Simple. Practical. The Perfect Wife List. He didn't want a woman who was after his money, fame or land. She wouldn't want a showy wedding. A ranch wedding with friends and family suited him, but he'd take a church or courthouse.
His brothers had mocked his list.
They'd laughed even harder when his brother August had grabbed his phone, scrolled down, and found the date he'd start looking for his perfect bride: November, five years down the road. He'd be thirty and likely quitting the AEBR tour. He'd be ready to settle down and start growing a family.
His bride would be a good cook, organized housekeeper, sweet, kind-hearted, traditional, pretty but strong, ranch-raised, hardworking and eager to start a family and raise them on Ghost Hill Ranch. She wouldn't want the big-city life or to travel. He was tired of that. His wife would want to stay home and raise the kids with him on the ranch.
"What. The. Hell! Sounds like a robot wife," August had hooted. "Some futuristic plastic doll that will malfunction and slay you in your sleep. Then she'll stumble onto the land and start a stampede with the longhorn. That will destroy my vineyards and tear up the fencing, leaving us with miles of fencing to re-stretch, probably in the middle of July, and you won't be here to help."
August had always had a big mouth and a vivid imagination.
Axel had been less harsh. "You'd be bored in two weeks."
"I want boring in a woman." Anders had grabbed his phone back. "By the time I'm thirty and retired, I'll be sick to death of hot and beautiful and out for a good time, or drunk or so sexed up they want to ride all night. I want to work the ranch and come home to a clean house, home-cooked meals and a relaxing time playing board games with my kids because their homework is finished."
August had laughed so hard he'd choked on his whiskey. "What the hell are you binge-watching on Netflix or HBO or whatever? Reruns of something from the fifties? Please stop! It's embarrassing. If any woman catches you with a list like this, she'll right hook you into the current decade and century, and I'll cheer her on."
"Definitely won't be a Texas cowgirl," Axel had added.
Anders tucked his phone inside his tux jacket.
His brothers could laugh. They got their Texas cowgirl dream girls. Anders would hold out for his. It wasn't like he wanted to marry anytime soon. He was twenty-five, at the peak of his career on the tour, pulling in serious money from tour wins and sponsorships, and his investments in Ghost Hill Ranch and his brother's distillery—Four Wolfs—only enriched him more.
He didn't want Mrs. Stay at Home on the Ranch with the Kids now.
Hell no.
Tonight he wanted action—hot, wild and all damn night.
Think of the devil. Anders returned to all four legs of the chair and stood up. Before his brain could kick in and say no, he strolled across the barn, easily dodging dancers and tables and chairs to make his way to the bar August and his bride, Catalina, had constructed to serve their Verflucht wines and his Cowboy Wolf Whiskey.
"Whiskey straight," he said softly to the copper-haired bartender who had been reorganizing the stock, her supple body swaying to the beat of the music while she worked.
"Me or the drink?" She turned around and cocked a hip.
He'd always loved her bold style of flirting. It had tempted him for months before he decided to make a move. She'd never end up on his perfect wife list, but damn, her husky tone, arrogantly amused regard, and perfectly arched brows combined with her petal soft lips that reminded him of a rose in full bloom still got him even after they'd both finally indulged themselves a couple of months ago.
She'd been the first woman he'd had a hard time kissing goodbye and walking off with a smile after their agreed-upon short fling. Rules were rules, and his had kept him safely unattached.
But tonight he felt primed to make an exception.
"You gonna dance with me later?"
"We already danced, Anders."
"You are an exceptionally sexy and memorable dancer."
"Getting lazy with your lines, cowboy."
"Just stating a fact, Whiskey."
She leaned back against the wide counter where the liquor was stocked on shelves along with the wine in racks. "Then I'll say thank you." Her lips curved. She breathed in, and he watched her chest rise. The brief glimpse of her creamy cleavage was driving him mad, and she knew it. "I remember your moves on and off the dance floor." She drew out the word and let her heated gaze take a slow walk over him.
Her golden gaze scorched him to his bones. She still wanted him! And he burned for her.
Whiskey knew her power over men the way other people know the earth was round.
She had confidence and fun flirting.
He'd seen her shut down cowboy after cowboy who flirted with her at tour events this year while she'd represented and sold his brother's whiskey. It had taken him months to devise a winning strategy.
Slow. Subtle. Teasing.
He felt none of that tonight. Reckless and desperate was more like it.
Not good.
And why was trying his luck with her again?
She was so beautiful it hurt his eyes to look at her sometimes. She was funny and smart and sexy and more aloof and unattainable than he was. So what the hell was he doing trying to get a second taste?
There were dozens of unattached women who'd been eyeing him all evening. Some he'd even considered.
But Whiskey drew him like no other.
"So you gonna give me a dance?" he asked again.
A smile hovered on her full lips, and Anders launched from feeling edgy and restless to full-throttle desire.
"Just one?"
Hell no!
Where had that come from? He was acting possessive.
She effortlessly kicked out a long, toned leg, revealing black and silver cowboy ankle boots.
"I did wear my favorite dancing boots. They double for many other favorite activities."
She stretched, arching her body back, and reached behind her all while her leg hovered a few inches above the counter. Her gauzy dress followed the lines of her body, revealing curves he ached to touch and taste again. His mouth watered, and a small voice of reason urged him to walk away.
"You ever gonna tell me your real name?"
"Whiskey works fine for now." She seized a bottle of Cowboy Wolf's top-shelf brand, brought it up and over her head, flipped it, let it roll across her body before she grabbed it again, popped out the glass stopper, and poured him a shot.
Whiskey's flair skills had always drawn a crowd.
"I want to be alone with you."
"Want or need?" She laughed and reached out a finger to stroke down his nose and briefly touch his mouth.
He parted his lips and nibbled on the pad of her finger. She tasted like honey, peaches, and a splash of whiskey.
Damn, he was thirsty.
"Tonight is a want that feels like a need. But just a dance if that's all you're offering."
Heat flared in her gorgeous golden-brown eyes. The same eyes that had intrigued him for months and haunted his dreams. Her eyes changed colors in different lights—amber, burnished gold, whiskey. In fact, he thought that had been how she'd gotten her nickname. Her eyes had always fascinated him as much as her body and her humor, sassy comebacks, intelligence, work ethic and sense of adventure. Hell. All of it. Total package.
But Whiskey would never be easy or peaceful or stay-at-home anything. Any man wanting to lasso her would never sleep.
He downed the shot of whiskey. Savored the burn and waited for her decision. She planted her palm on the top of the bar and vaulted it so that she stood directly in front of him, close but not touching.
She threaded her fingers in his dark, wavy hair that Axel had harassed him all week was too long.
"I'd enjoy a dance, Anders. And will even admit to wanting a night." She stood on tiptoe and guided his head down to hers.
She fused their mouths and lit him on fire. His skin felt too tight and he slid his hands around her body, forcing himself to not crush her to him or grab anything R rated at his brothers' weddings in a town where everyone knew him.
Her lips moved expertly under his, her tongue played with his inner lip, her teeth nibbled his bottom lip enough to sting—and his heart nearly jerked out of his chest. One kiss from her and his cock swelled so eagerly against his zipper it was painful.
Dynamite.
C4.
Grenade.
Rocket launcher.
Didn't matter the analogy. Whiskey was an explosive combination of woman. Dangerous. And Anders needed her.
She broke the kiss, and his mouth chased hers. She pressed her fingers against his lips.
"But if we're talking my needs, Anders Wolf, I need freedom."
Excerpt. ©Sinclair Jayne. Posted by arrangement with the publisher. All rights reserved.

Giveaway:

Digital ebook of A Baby for the Texas Cowboy
To enter Giveaway: Please complete the Rafflecopter form and post a comment to this Q:

What did you think of the excerpt spotlighted here? Leave a comment with your thoughts on the book…
Meet the Author:
Sinclair has loved reading romance novels since she discovered Barbara Cartland historical romances when she was in sixth grade. By seventh grade, she was haunting the library shelves looking to fall in love over and over again with the heroes born from the imaginations of her favorite authors. After teaching writing classes and workshops to adults and teens for many years in Seattle and Portland, she returned to her first love of reading romances and became an editor for Tule Publishing last year. Sinclair lives in Oregon's wine country where she and her family own a small vineyard of Pinot Noir and where she dreams of being able to write at a desk like Jane Austen instead of in parking lots waiting for her kids to finish one of their 12,000 extracurricular activities.
Buy Links:
Amazon – https://amzn.to/2SD75rK
B&N – https://www.barnesandnoble.com/w/a-baby-for-the-texas-cowboy-sinclair-jayne/1136385465?ean=2940162683186&st=AFF&SID=B%26N+Sample+Feed&2sid=Tule+Publishing%2C+Inc_8019915_NA&sourceId=AFFTule+Publishing%2C+Inc&cjevent=0859d7044d1a11ea80e200bd0a1c0e0e&dpid=tekz25v83
Apple – https://books.apple.com/us/book/a-baby-for-the-texas-cowboy/id1495112850?mt=11&app=itunes
Kobo – https://www.kobo.com/us/en/ebook/a-baby-for-the-texas-cowboy
Google Play – https://play.google.com/store/books/details/Sinclair_Jayne_A_Baby_for_the_Texas_Cowboy?id=mZnODwAAQBAJ&hl=en_GB