Her Secret Prince by Madeline Ash: Some secrets are meant to be kept and others open the door to a whole new world.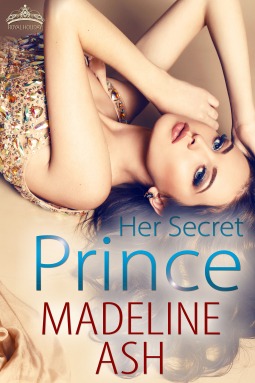 Dee Johnson was used to people leaving her. She was fine alone, she could rely on herself. That is until she met him. Her best friend in the whole world and he promised he would stay. Until the night she told him she loved him and then he was gone. At sixteen that was the end of her world.
Jebediah Brown didn't know anything other than leaving. That was all he and his mom would do. Till they ended up in California and it looked like they were going to stay awhile. He finally started to make friends, or at least a friend. Then she told him she loved him and before he knew what was happening his mom packed them up and they were gone again.
Ten years later Jeb searches out Dee to see what she might remember from that night, what spooked his mom into leaving. He didn't count on the instant attraction or the reclicking of the friendship they once shared. However when secrets start to be reveled will Jeb and Dee be able to see a future or will Dee end up alone again?
OMG seriously? From high school almost loves to a very quick adult relationship, this story pulls no punches other than the one straight to the chest. The descriptions are so real the players all seem to come to life. Fair warning though this is a quick romance with little time for extra story or extra people, though there is at least one other couple I wouldn't mind seeing a story made out for.
Pick this one up for a quick pick me up on those days where you just need to know sometimes the unexpected is a miracle.
Book Info:

Published April 9th 2015 by Tule Publishing – Holiday Books
At sixteen, Dee Johnson gambled her heart on her best friend Jed Brown – and lost when he disappeared without a trace.
Ten years on, Dee's life is uprooted when Jed turns up on her doorstep, asking for her help.
Dee has been left behind by everyone she's loved: her parents, her close friend Alexia, and a stream of lovers. She moves fast with men and suspects this is why they move on fast. Now that's Jed's back in her life, she's taking no chances. Despite the attraction ripping at her seams, she holds back, knowing she wouldn't recover from being loved and left by him a second time.
A constant traveler, Jed has only felt at home once in his life – with Dee. Now that he's found her again, he's determined to make up for lost time. He'll never leave her again.
Until an unexpectedly royal revelation threatens to strip Jed of his freedom and future – including his place by Dee's side.