In Two Week Turnaround by Geneva Lee, Sofia King is the turnaround queen.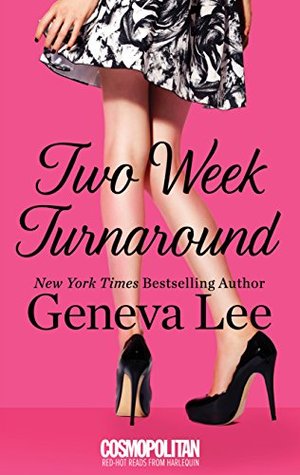 She grew up in Hollywood with her father becoming famous in the movie industry, so she's seen it all. Sofia prides herself on taking stars who have hit rock bottom and helps them find their way to the top again, personally and (hopefully) professionally. But when her father calls on her services for one of his actors, she never would have agreed had she known it was her ex-boyfriend Isaac Blue. He walked out of her life six years ago and she's not sure she can withstand another go around with the only man to ever capture her heart.
'Who was she kidding? Isaac was trouble, but trouble of the best possible variety.'
Isaac has made a name for himself as a rising action hero on the big screen. But he's paid the price for that fame by having to give up the most important relationship he's ever had, with Sofia six years ago. Alcohol, partying with the guys, and lots of nameless women haven't helped fill that aching place in his heart. Now that Sofia has stepped back into his life, Isaac is going to use whatever Southern charm he can scrounge up to sweep the beauty off her feet. And hopefully for good this time.
"I've made mistakes and I'm going to fix them. I didn't know I was lost until you found me again."
Sooooooo fantastically hot. Two Week Turnaround may be a short story, but it is chock full of steamy scenes, playful banter, and tons of Hollywood attitude.
I had a really good time reading this novella. Not only did the scenes flow easily from one to the next, but the dialogue was snappy and had me laughing more than once. Especially thanks to Isaac — he had such a naughty mouth! Although Sofia could more than keep up her end of the conversation which was great. There were a couple of other strong characters along with our protagonists who kept my interest as well: Sofia's father, and her best friend. I thought they both added something quite important to the scenes they appeared in.
I liked that Geneva Lee wrote Sofia as a strong, independent woman who wasn't afraid to be tough as needed or to show her feminine side, too. There was a definite lack of communication between her and Isaac six years ago when they had a romance blooming, so seeing where they were so many years later in their lives was interesting. They'd both grown and it felt like they were now more prepared for the intense connection they shared. And that chemistry? Whew…there were some very sexy and *ahem* creative love scenes between them. 😉
Do you love second chance romances and hunky action heroes? If so, definitely check out Two Week Turnaround. I think you'll enjoy every moment.
Book Info:

Publication: April 14th 2015 by Cosmopolitan Red-Hot Reads from Harlequin
Give Sofia King two weeks and she can turn any strung out star's career and life around. She's got it all—the career, the shoes, the glamour—and her plans don't include a man unless he comes with a guaranteed toe-curling orgasm. But when her father, head of Maxximum Studios, calls in a favor, she's forced to take on the one bad boy she has no interest in reforming.
Isaac Blue.
With box-office bankability and a new woman in his bed every night, Isaac seems to have it all. Except happiness. So when his latest antics threaten to shut down a summer blockbuster and his producers decide to send in Sofia King, Isaac may have a shot at getting what he really wants. The one woman who got away. Sofia's icy attitude about their past only makes him want to turn up the heat. And Isaac isn't about to say no to Sofia's proposed plan of action, especially if it gets her back in his bed.
Sofia is sure a week with Isaac will get him out of her system and keep him in line until filming is over.
But as on-set supervision becomes in-trailer flirtation, and wild sex turns into sensual lovemaking, Sofia might just be the one whose life is turning around…