Hang Tough by Lorelei James: Tobin is the classic all around good guy.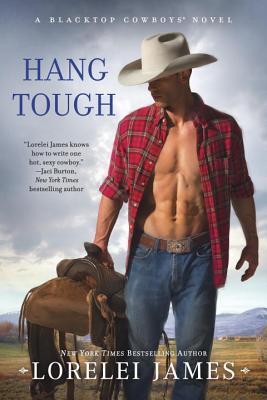 He's sweet, sexy, dedicated, loyal, and helps others even when it hurts him. After living and working at the Split Rock Ranch and Resort for a few years, he's ready to move on. He isn't using the degrees he earned and he's lonely in a small community after his friends have been finding love and starting families.
He's about ready to pack up and just move when one of his favorite people requests his help. Garnet, or Miz G, is one of the Mud Lillies and she's always entertaining. Miz G persuades Tobin to move in with her so that her son can't move her into an assisted living facility after her most recent shenanigans.
Jade is feeling lost. She's happiest when playing gigs with her quartet, but working multiple part-time jobs isn't what she envisioned for her life after college. She also didn't see herself living with her parents. Before she knows it, she's headed to Wyoming to report back on the situation with Tobin and her beloved grandma.
Then Jade said, "It looks like we'll be sharing the upstairs bathroom, so I feel the need to warn you about leaving the toilet seat up."
"As long as we're goin' with clichés, I'll warn you not to use my razor."
Jade's thoughtful gaze roved over his face. "Doesn't look like you have much use for a razor anyway."
Tobin and Jade don't exactly get along at first. Both are wary and suspicious of the other's motives regarding Miz G and they can't stop their bickering. It's really too bad that they can't get along since they can't stop thinking about each other. Living under Miz G's roof does mean that they can't avoid each other, but does provide ample opportunities to get to know each other and to explore their crazy chemistry.
"Why did you follow me?"
"Your challenge of watch and learn wasn't an invitation?"
"You suck," she wheezed. ""You're not even breathing hard."
"My job at the ranch is physically demanding so I'm in better shape than I look."
Hang Tough is entertaining, sweet, endearing, and sexy. Lorelei James wrote really good dialogue and interactions between the characters. Ms. James provides great secondary characters and continues to entertain with the latest adventures of the Mud Lillies. Hang Tough can be read as a standalone in the Blacktop Cowboys series. Fans of Jaci Burton, Marie Force, and Vicki Lewis Thompson will enjoy Hang Tough.

Book Info:

Publication: November 1st 2016 | Berkley | Blacktop Cowboys #8
In the new Blacktop Cowboys® novel from the New York Times bestselling author of Wrapped and Strapped, one woman learns that when it comes to cowboys, looks can be deceiving…
When Tobin Hale stepped in to stop Garnet Evans's son from railroading her out of her own home, he knew moving in with his favorite Mud Lily could be seen as strange. But nothing prepared him for the arrival of Garnet's fiery, beautiful granddaughter, Jade—or her assumption that he's up to no good…
While Tobin might be the hottest man Jade Evans has ever seen, his physical attributes won't distract her from protecting her grandma from his sweet-talking ways. But the stubborn cowboy digs in his boot heels and refuses to leave. Stuck in close quarters together, Jade learns Tobin is the real deal—a hardworking, fiercely loyal man and she's the one in danger of losing her heart.
And just when he was prepared to leave Muddy Gap behind, Tobin may have found the kind of woman worth sticking around for…