Her Texas New Year's Wish by Michelle Major  is the first book in Harlequin's new series, The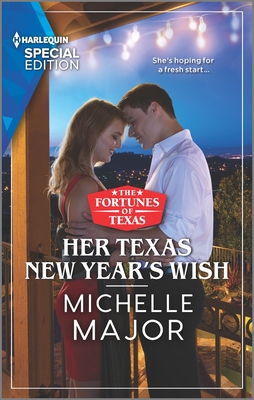 Fortunes of Texas: The Hotel Fortune.
Grace Williams is 3 1/2 months into the management training program at Hotel Fortune. The hotel being run by the Fortune siblings is slated to open sometime around Valentine's Day. Grace is determined to be named hotel manager when the six month training program ends. Grace's main rival Jillian Steward is tough competition but Grace is sure she can do a better job. At the family birthday party for Adam Fortune's one-year-old son disaster strikes. When Grace walks out on the balcony off the banquet room at the hotel to get a breath of fresh air, the balcony collapses. Her two story fall results in a broken ankle, mild concussion and lots of bruises. Such rotten timing! Grace can't fall behind and lose out on her chance at the manager position. Then there's the instant attraction she felt upon first meeting Wiley Fortune at the party. She's never felt this way before. They end up agreeing to see each other until Wiley returns to Chicago after the hotel's Grand Opening. But will that be enough time together or will she end up with a broken heart?
Wiley Fortune is a contract law attorney from Chicago. His mother guilted him into spending time with the rest of his family in Rambling Rose, Texas. During a family birthday party at the soon to open Hotel Fortune Wiley warned his sister Nicole not to drink the water in Rambling Rose because it's tainted. Well, not really, but the joke is that drinking the water leads to falling in love. Ha! Too bad Wiley didn't take his own advice. What's up with this instant attraction to Grace Williams? There's a pull there – almost like meeting his soulmate. That can't be. He's heading back to his life in Chicago. Maybe he really shouldn't have drank the Rambling Rose water.
This story is a super beginning to the new series. Some of the characters have been introduced in previous Fortunes of Texas books. Grace and Wiley seemed to connect with each other when they first saw each other. I like how Wiley felt so protective of Grace from the get-go. I also liked that Grace finally believed that she could fall in love without getting hurt. I am looking forward to the next book in the series, Their Second-Time Valentine by Helen Lacey.
Book Info:

Publication: December 29th 2020 | Harlequin Special Edition | Fortunes of Texas: The Hotel Fortune #1
Can you fall head over heels
And land on your feet?When Grace Williams topples from the balcony at the soon-to-open Hotel Fortune, the last thing she expects is to find love with her new bosses' brother. Wiley Fortune is visiting from Chicago, and the polished attorney has looks, money and charm to spare. But Grace's past makes her wary of investing her heart–and risking her job. Do a small-town Texan and a city sophisticate really have a chance?
From Harlequin Special Edition: Believe in love. Overcome obstacles. Find happiness.
The Fortunes of Texas: The Hotel Fortune