Here Comes the Bride by Hope Ramsay finds Laurie Wilson left at the alter by her fiancé, Brandon Kopp. Brandon's best man, Andrew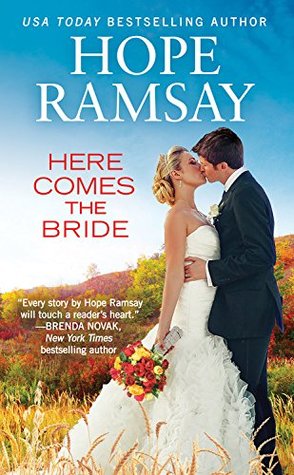 Lyndon, thinks she dodged a bullet. Yet Laurie wants Brandon back, and her father, who happens to be Andrew's boss, asks Andrew to find a way to make it happen. Andrew sets up a series of dates to make Brandon jealous, but he finds himself falling for Laurie as well. When Brandon decides he wants her back, will Andrew be willing to let her go?
I couldn't for the life of me understand why Laurie wanted Brandon back so badly after he humiliated her at the alter. Yet there she was, asking for help to get him back. Then there came a point where she didn't him back at all, yet she still went through with Andrew's plan to get him back. I was a little disappointed that even though she didn't want him, she was still willing to attempt to marry him again, despite developing feelings for Andrew. It wasn't fair to anyone involved.
Still, I enjoyed the story. The group of secondary characters are entertaining, including Courtney, the man-hating wedding planner, who tries to get Laurie to get revenge on Brandon.
Laurie gave Courtney a what-the-hell kind of look. "You know, Court, surprises like this are why I really hate to be surprised. Brandon loves his car. it would be wrong for us to do any damage to it."
Clearly it was time to take Laurie in hand. "Yes, Brandon loves his car. He loves it more than he's ever loved you. Which is screwed up if you ask me. So I want you to think about how that man made you feel on your wedding day. About how he went to Bermuda without you. About how he made you take a job you hate and buy a house you didn't want. Laurie, that man needs to pay for what he's done to you."
While this is the third book in the series, it can be read as a standalone. I haven't read the two previous books, but I had no issues following along with all the characters and the events taken place. There does seem to be a couple of relationships being set up in this book for future books. I'm interested to see what happens between Courtney and Matt, the player of the Lyndon family.
Here Comes the Bride was well-written with entertaining characters and meddling family members. I recommend giving it a read; you won't be disappointed.

Book Info:

Publication: August 29, 2017 | Forever | Chapel of Love #3
For Professor Laurie Wilson, planning her wedding to longtime boyfriend Brandon Kopp has been a whirlwind. But somehow, between all the cake tastings and dress fittings, she never imagined being left at the altar. In the aftermath, she does what any sensible woman would – she swigs champagne and considers keying his car. Until someone knocks on her door with a much better idea for revenge.
Best man Andrew Lyndon thinks Laurie's better off without Brandon. But Laurie's father – and Andrew's boss – isn't going to accept anything less than a reconciliation. And he's made it Andrew's problem to solve. So Andrew decides to make Brandon jealous by setting Laurie up on a string of "dates." After a couple of weeks, Brandon will be begging Laurie to take him back. But Andrew's plan works a little too well because suddenly he's the one falling for Laurie — and planning a proposal of his own.