In Say No More (Gravediggers #3) by Liliana Hart, Things have always come easy to Dante Malcolm thanks to his privileged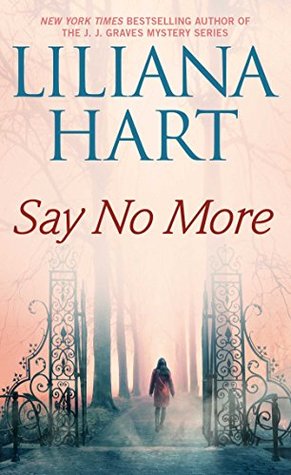 upbringing in British society. Looking for a challenge, he found that in living a secret life as the renowned art thief Simon Locke while also forging a career as an intelligence officer. But if Dante is honest, fellow agent Liv Rothschild was his greatest challenge. She was too smart for her own good, along with being sexy and everything he could want in a woman. But when he was forced to leave his life behind and join the Gravediggers, Dante lost Liv forever. Or so he thought. Until the day they cross paths working to put an evil businessman behind bars for the atrocious acts he's committed. Soon there's danger facing them at every corner, the least of which is Dante's dream of getting a second chance with Liv.
"You son of a bitch," Liv said. "You're supposed to be dead."
"Believe me," he said. "I am." And then all the charm and devil-may-care attitude he'd always relied on failed him and he said, "I've missed you, my love."
Liv's entire life since the death of Dante Malcolm, aka Simon Locke, has been focused on her Interpol career and putting human traffickers away for good. Her family's past certainly fuels her vendetta but so does her anger over having been tricked by her former lover and friend. Liv is much more careful these days to avoid emotional entanglements. And it works up until she sees the one person she thought to be out of her life forever: Dante. She always wondered if he had truly died or if it was one last con. And now that she's finding out the truth about what happened, she wants to move on and leave him in the dust. But they have a common goal on their current missions and Liv knows they could accomplish more together than apart. But at what cost to her heart and her state of mind?
'Only Dante. No one else had ever completed her the way he had. And no one else had ever devastated her the way he had. It was the cruelest of ironies.'
With a completely different setup than the first two novels in the series–but no less exciting–Say No More found our main characters once again falling in love while they raced across the globe to save a group of young girls from harm.
'Dante refused to steal for the sake of stealing. There had to be a reason, and someone had to benefit. Having a moral compass, as loose as it may be, had kept him grounded.'
The Gravediggers series has been one thrilling ride after another so far and this installment, while quite distinct in its own way, proved to be filled with action and intrigue as well. Like I mentioned, the feel and the setup for Dante and Liv's story was unique but I think it worked well. Their situation was far removed from our previous couples where they had a history together and I liked how Hart clued us in to their past with the snippets she added here and there of their previous time together.
The way things ended between Liv and Dante the first time was a bit shocking and certainly rather sad. And it really changed the way they both carried forward in their lives from there. Agent and art thief Dante threw himself into his work with the Gravediggers, never able to find a woman again who meant as much to him as Liv. And she similarly focused on her career and gave up on dating after losing Dante and having been duped by him. I loved the dynamic between them where they were both so intelligent, highly skilled in their careers, and they had a connection that time and circumstances couldn't sever. I thought they made an exciting couple and they reminded me of Pierce Brosnan and Rene Russo in The Thomas Crown Affair: Passionate and sexy with the whole art thief vs intelligence agent aspect. Plus, the way Hart described Dante you could just picture a suave British guy with a dreamy upper crust accent calling you darling or love. *sigh*
There was a fair amount of drama, fight scenes and intense situations Dante, Liv, and the Gravediggers got themselves into here. Some of it might be difficult to read where it deals with human trafficking, specifically young girls, and the trauma they were forced to endure. Not a huge amount of detail went into those scenes and we thankfully didn't get any passages written from the kidnapped girls' POVs, but still heartbreaking nonetheless.
The past came full circle in more ways than one for our hero and heroine in Say No More. With a gripping plot, a reunion with all the Gravediggers, and a humbling but absolutely lovely HEA, I think readers will definitely savor this story.

Book Info:

Publication: July 25th 2017 | Pocket Books | Gravediggers #3
Return to New York Times and USA TODAY bestselling author Liliana Hart's romantic suspense series, the Gravediggers, with this thrilling game of cat and mouse between a member of the Gravediggers and the brilliant woman hot on his heels.
Sometimes the dead do rise…
Dante Malcolm is a man of refined tastes. He was once a part of Britain's Elite Intelligence Force, but there was a reason he'd never been able to capture Simon Locke, the notorious thief who always seemed to be one step ahead. That's because Dante and Simon were one and the same, until Dante's double life eventually caught up with him and now he belongs to the Gravediggers.
Eva Rothschild is a Detective Inspector with Interpol and is the one responsible for catching MI-6's most notorious agent in his final heist—except the heist killed him. But something has never felt right about his death, and it's haunted her for months. It was too easy, and Dante Malcolm was too smart to go down that way.
Dante might belong to the Gravediggers in body, but his heart and soul will always belong to the next job. The rest of the team doesn't know about his alter ego because he made sure the information went missing from his file. So when the job he's always waited for seems like a possibility, he sneaks out of the country like a thief in the night, only to run into the only woman who's ever been able to match him in wit—and passion—for the job. Except they're standing on opposite sides of the law—and only one of them can walk away with the prize.