In Here's Looking at You by Mhairi McFarlane, History professor Aureliana "Anna" Alessi never gave her school reunions any thought. Why would she want to go through that torture all over again, even if she has lost all of her teenage weight and looks like a different person now? Then she is forced to work on a project with James Fraser, the one guy who hurt her the most in school with a prank he set up in front of the whole class. Anna fears he'll remember her from that horrible day, but oddly he doesn't. But she'll never forget what she suffered at the hands of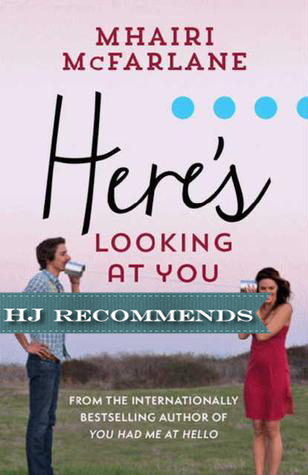 those bullies and now it's her turn to show him a bit of attitude. Anna's friends begin to warn her away from James as they turn the corner and actually form a friendship of sorts. Can she trust the adult version of James to be sincere? Or is he still the same selfish glory hound he used to be?
"It's weird, but unless he's hiding it very well, I don't think he remembers me from school at all. Strange, isn't it? Yet he loomed so large for me. The big people don't remember the little people. Even when the little people were very big."
James Fraser's charmed life has come to a screeching halt. His year long marriage to model-beautiful Eva has hit a rough patch and his job in media marketing is certainly not as fulfilling as he would like. This latest project, working with UCL's history department on an exhibit, looks to be a snoozer until he meets Anna Alessi. Full of attitude and with a chip on her shoulder, Anna proves to be a breath of fresh air, even if she is exasperating at times. James fancies a friendship with her but after a series of bad choices on his part and the truth of her identity comes out, he's left reeling. James is torn between working on his marriage or pursuing a friendship that has begun to mean the world to him.
'…James couldn't stop the ugly questions forming. Was it possible he was in love with someone he didn't like?'
Here's Looking at You is chick lit with a distinctive British flair. With a lovely blend of humor, friendship, and romantic follies, we get an eye-opening look at Anna's journey to becoming her true self.
I wasn't quite sure what to expect when I started this novel as this is the first I've read from Mhairi McFarlane. I was pleasantly surprised with the emotions Anna's story brought out in me, feeling her pain as she told us how badly she was bullied in school. I shared similar, though not quite so traumatic, events in my childhood, so I personally found it easy to relate to Anna. The only thing that slowed me down here was some of the cultural references mentioned. Not being completely familiar with the London scene, it was a little hard to follow, but at the same time, seemed absolutely appropriate for the storyline.
Anna's view of the opposite sex was a wee bit cynical but definitely hysterical. I thought her dating trials and tribulations were, sadly, right on the money and found her explanations of internet dating snort-inducingly funny. And her friends Michelle and Daniel were exactly the right type of off-the-wall characters for Anna. They were loving, sometimes brutally honest, but always had her back. Especially when it came to James. It was quite something to watch how the tables turned on him, going from the most popular guy in school to struggling with relationships and work as an adult, while Anna was finally coming into her own. Quite the dichotomy there. I won't give away any spoilers, but we'll say that they each finally find what they're looking for after several mishaps.
For fans of romantic literature and British comedy, I think Here's Looking at You will be right up your alley. Anna and her unique friends & family are sure to make you laugh and cheer, as well as shed a tear or two along the way.
Book Info:

Published June 3rd 2014 by Avon
The next hysterical romantic (mis)adventure from the internationally bestselling Mhairi McFarlane, author of You Had Me at Hello
What if the last person you wanted to see was the person you needed?
Here's Looking At You is, in essence, an ugly duckling tale. Our heroine Anna returns to school after fifteen years for a reunion. School doesn't hold happy memories for her, as being a roly poly Italian (known as the Italian Galleon), and always armed with a Tupperware full of pungent Mediterranean food, she was bullied incessantly throughout her years there.
Now in her 30s, Anna wants to put the past behind her once and for all and face up to the bullies who made her life hell. But she is much-changed from the girl she once was – all curves and because I'm worth it hair – and no one recognizes her when she arrives. Losing her cool, she backs out on her plan for revenge and slinks off, hoping never to be reminded of her years at school again.
But fate gets in the way, and after the reunion her path keeps crossing with James – major hunk and Anna's major crush back at school. But alas, as a crony to the bullies, Anna to this day believes that his beautiful exterior hides an ugly interior. As they continue to cross paths a love/hate relationship ensues until eventually something shifts, and they both start to discover what the person underneath is really like…
Full of laugh out loud humor, Here's Looking At You is a novel about facing your demons and being happy with who you really are.