In Hero's Homecoming by Rebecca Crowley, Chris Walker thought he had met the woman of his dreams while on R & R at Fort Riley. He couldn't wait to make their relationship into something more than just a fling. But after having to return to duty, and unfortunate event had him loosing his sight while everyone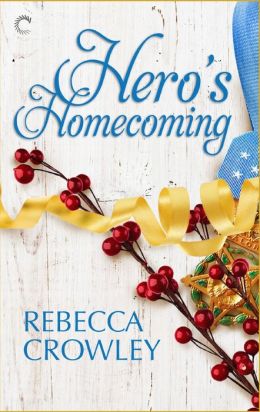 else in his team died.
Now blind, physically and emotionally scarred, Chris doesn't want to burden Beth Tate and ended everything with her as soon as he could. But when he finds himself stranded in the airport due to a snowstorm and his parents unable to reach get him, Chris will have a hard time gathering his courage to call the only person nearby that could help him but may not have forgiven him for his action.
Beth has been preparing herself for a quite holiday alone when she receives a call from Chris asking for s ride to a hotel, she can't help but go to his aid. She has not forgiven him for the way he ended things, but she still cares for him. Little does she know the surprise that will await her when she sees him once again.
This a heartbreaking and of so heartwarming story, the things that happened to Chris are sad and things that happen to many of the soldiers fighting for us, his struggles feels so real and the things he goes through to try and make a life again are so hard. But being the one left behind is not easy either, for while Beth believed that they were working towards something special, Chris ended things believing that he would only be a burden for her.
I just loved how when Beth met him at the airport she threw herself at him to hug him, but then her anger over begin dumped came back and she slapped him right after. She showed no pity for him and she tried to help him without making him feel like a burden or unable to do anything by himself.
For a heartfelt story that will make you cry and make you laugh, don't miss Hero's Homecoming by Rebecca Crowley.
Book Info:

November 21st 2013 by Carina Press | Anthology: Gifts of Honor
Six months ago, being snowed in at Christmas with the amazing woman he met on R & R at Fort Riley would have been a dream come true, yet now, as a blizzard swirls outside Beth Tate's house, Captain Chris Walker knows he shouldn't be there. Blinded in combat and emotionally scarred, he never wanted Beth to know the man he's become—but stranded by the storm, he had no one else to call.
Hurt and bewildered when Chris abruptly ended his faithful contact from Afghanistan, Beth tried to put him and their whirlwind romance out of her mind and prepared for a quiet holiday alone—until the phone rang. Now that he's here, she's more confused than ever, torn between love for the man she once knew and anger at the one who broke her heart.
A life with Beth was everything Chris wanted, but the wounds of battle are nothing compared to the agony of heartbreak. It will take more than mistletoe, but perhaps this holiday season Chris will find his way home.