In Last Chance Knit & Stitch by Hope Ramsay, Molly Canaday cannot believe her momma took off, leaving her in charge of not only her brother and father, but the Knit & Stitch yarn shop as well. Molly likes to knit but her real passion is working on vehicles at local body shop, the Grease Pit. It's on a service run for the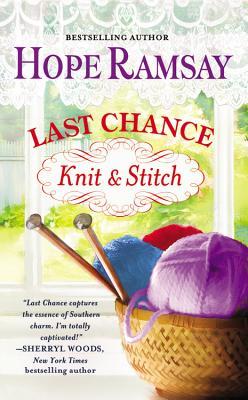 shop that she meets Simon Wolfe for the first time as an adult. He was a football player on her daddy's team when she was quite young, but she's heard the stories about how he left town after a falling out with his parents and never looked back.
"Oh. And what are your rules?"
"I don't do relationships, commitment, marriage, children. Gillian knew that going in. And then she changed her mind. I didn't."
"Oh." Molly found Simon's attitude and honesty remarkably refreshing. "I think I like your rules."
Molly is attracted to Simon from their first meeting yet she knows better than to picture them together as a couple. She's not the type that believes forever is in the cards for her no matter what the all-knowing Miriam says. Molly surprises herself, though, with how quickly she gets attached to Simon. By the time he's ready to leave town again, she wonders if it's too late to rethink her philosophy on relationships.
"I should have come home a long time ago."
"Home?"
"Here." He reached and put his beautiful artist hands over her heart. "Home."
Last Chance is definitely not the place Simon Wolfe wants to be. As soon as he takes care of his father's funeral and will he'll be back on the road to California. Things have changed in town over the years, some for the better, some not so much. Then Simon runs into Molly Canaday and everything shifts in his world. He can't help the way he's drawn to her even though he knows he's too old for Molly plus everyone in town things she should be with her best friend Les. But try as he may, Simon can't stay away from Molly. Given an ultimatum by her dad, his old football coach, Simon has to decide if he should fight for what he wants or walk away to avoid a confrontation.
'He'd learned a long time ago that arguments settle nothing. It was a man's actions that made the difference.'
Last Chance Knit & Stitch is the latest book by Hope Ramsay set in the sweet little town of Last Chance, South Carolina. I'm happy to say I was just as entertained this time as I was with Last Chance Book Club.
The townspeople were up to their same antics, lovingly meddling in everyone's business while looking out for each other. Miz Miriam made her matchmaking forecasts for a few lucky people, and Zeph worked on the theater plus had an eye on keeping the neighborhood ghost happy. We get introduced to Angel, Simon's assistant, who is an absolute blast–especially with the knitting club!
I had a lot of sympathy for both of our protagonists this time. Simon felt like his parents had cast him out of town for wanting to follow his dreams and not only that, he was always caught up in the middle of their arguments growing up. This caused him to decide he didn't want to ever get married or have children and put them through the hell he went through. He worried he didn't have good enough role models growing up to treat a wife and child right. It seemed like everyone was still pushing him out of town and I felt so sorry they wouldn't let him just live his life the way he saw fit.
I think I felt even worse for Molly, especially with the way her father treated her. Yes she still lived at home but she was in her late twenties and instead of protecting her, he was inhibiting her growth. She had to live by his rules even when it came to who she chose to love. I found that part frustrating even though I know he just wanted what was best for Molly. But I did love how multilayered her character was. She worked on vehicles but she loved to knit. She looked like a tomboy but liked to wear some girlie surprises underneath the baggy clothes. She didn't really have a domestic bone in her body, but Molly fiercely loved and protected her family and friends. Such an interesting dichotomy!
If you're looking for a sweet romance with southern flair, look no further than Last Chance Knit & Stitch. I think you'll really enjoy all the wonderful characters and their quirky town.
Book Info:

Published November 19th 2013 by Forever Romance
"Last Chance captures the essence of Southern charm and quirkiness. I'm totally captivated!" — Sherryl Woods, New York Times bestselling author
Molly Canaday wishes she could repair her life as easily as she fixes cars. She was all set to open her own body shop in Last Chance when her mother ran off and left her to manage the family yarn shop instead. Now guided by the unsolicited-though well-intended-advice of the weekly knitting club, Molly works to untangle this mess. But her plan unravels when the new landlord turns out to be difficult-as well as tall, dark, and handsome.
Simon Wolfe returns to quickly settle his father's estate and then leave Last Chance for good. Still wounded by a broken heart, Simon is surprised when the town's charming streets and gentle spirit bring back good memories. Soon the beautiful, strong-willed Molly sparks a powerful attraction that tempts him to break his iron-clad no-commitment rule. Can Simon and Molly find a way to share work space-and build a future together in Last Chance?