In Hidden (Deep Ops #1) by Rebecca Zanetti, Malcolm West barely survived a tough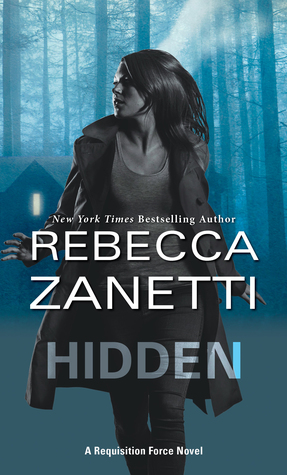 undercover assignment. Luckily, he's finally free and ready to start his life fresh again. However, when he moves into his new place, he soon discovers he hasn't escaped his life as a cop when someone comes to recruit him for a new team with his first assignment being to get close to his next door neighbor, Pippa. Yet, the closer he gets to Pippa, the more determined he is to protect her from what's coming, especially since he believes she's innocent. Will Malcolm be able to keep Pippa safe or will they lose their shot at happy ever after because a madman wants Pippa back?
"Why was there a man at your house who you told to never return?"
Well. Apparently, he wasn't the only nosy one. "I was a cop, things went bad, and that guy wants me to be a cop again."
Her gaze snapped back to him, the movement like a startled bird. Her mouth formed a small O. Ah, hell. "Is there a reason you don't like cops?"
This new series by Ms. Zanetti starts off superbly with wonderful main characters and quirky secondary characters, compelling and intense dialogue that had me reading quickly, determined to discover why the heroine doesn't like cops, why she's a bit of a recluse and whether the hero would be able to keep the heroine safe once he discovers everything about her past that could bring trouble for her again. However, it was from the moment the hero and heroine come face-to-face for the first time that had me completely hooked to this story, as the heroine wants to know more about the hero, and yet, it's palpable she's not ready to tell him anything about her. Will she ever be able to open up to him about all she's been through?
Malcolm looked, shook his head, and looked again. "The German shepherd is wearing high heels."
Nari angled her neck. "He's a cross dresser?"
"No," Angus said. "He has a complex because of another, bigger dog. I've told him he's really big, and he is, but any chance he gets to use heels or boots, the bastard puts them on his front legs."
The dog overturned a shoe, and it scraped against the concrete. Nari winced. "Dude. Those are Jimmy Choos."
As for the dialogue, it was entertaining and intense due to the main characters back stories and everything these two go through when it comes to the threat to the heroine's life. Will the heroine's family finally do what's right by her? Moreover, the heroine is resilient, courageous and I liked how determined she was to remain a mystery because no one can know who she really is. Yet, in saying that, I liked that she put her trust in the hero when she needed him most. Since no way was she going to let her past haunt her anymore. While the hero, he's been through a lot too after what happened with his last undercover case and it's understandable why he wants nothing to do with the people that want to hire him. However, there's something about his new neighbor that has him intrigued and I'm glad that he decided to give the new job a chance because the secondary characters certainly have their own interesting back stories. Yet, what I liked most of all about the hero was the confidence he had in his skills to go undercover and get the heroine to open up as well as his determination to protect the heroine because she doesn't deserve what she's been through in the past to keep affecting her present.
Overall, Ms. Zanetti has delivered a really good read in this book where the chemistry between this couple was strong from the moment they met; the romance was fan-your-face hot and provided a little kink, as the hero is alpha all the way when it comes to the bedroom; and the ending had me worried for the main characters, but had me loving how everything works out for these two because the hero and heroine deserve every bit of happiness they've found after all they've been through. However, it was the epilogue that wrapped this story up nicely, as the team Mal joined are getting to know each other better and I liked the advice he gives one of the others. I would recommend Hidden by Rebecca Zanetti, if you enjoy romantic suspense, the mysterious strangers trope or books by authors Cynthia Eden, Lara Adrian, Katie Reus and Kaylea Cross.
Book Info:

Publication: September 25th, 2018 | Zebra | Deep Ops #1
Hide. That's all Pippa can do to escape the terror chasing her. But now that she's off the grid in a safe house, she finds plenty of interesting things to watch through the window. Like her new neighbor, with his startling green eyes, killer smile, and sexy bad-boy tattoo . . .
Run. Malcolm West is fleeing the hell he unleashed in his last assignment as an undercover cop. A backwoods bungalow sounds like the perfect place to start over. Until he discovers he's been set up . . .
Fight. Someone's gone to a lot of trouble to bring them together. No matter how much he resents that, and his own driving needs, Malcolm will have to dig deep and let loose the banished killer inside himself, or Pippa's fears could come true faster than the flip of a bolt in a lock . . .