In High Heels and Haystacks (Billionaires in Blue Jeans #2) by Erin Nicholas, Ava Carmichael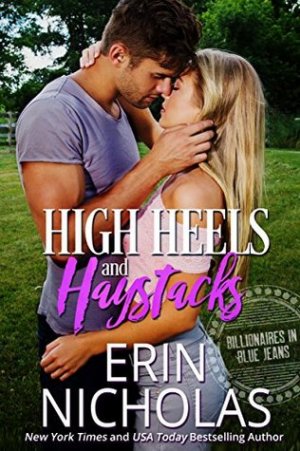 doesn't know the first thing about making pie, but luckily she has Parker Blake to turn to for help. He's an expert in the kitchen, and his are the kind of skills she needs to teach her how to make a good pie. Since she's been tasked with the pie making in her father's will at his little pie shop in Bliss, if she and her sisters are to get their inheritance. However, as Parker tries his hardest to get Ava to appreciate cooking and food, she never imagined herself falling in love and wanting to stay in Bliss, especially not when she has a company to run in New York. Will Ava and Parker achieve their happy ever after?
"I didn't mean that sexually. Though I do make you soft that way." He learned in and kissed her. Then, resting his forehead against hers, he said, "But I mean in other ways. You don't have to put on your kicka**-in-charge side with me."
She sighed against the lips. "Because you know it's all an act."
He laughed. "It's definitely not an act. You're soft with me because I know the ways you're kick-a** that have nothing to do with business deals and power suits and high heels."
Having absolutely loved the first book of this series I couldn't wait to read more about the Carmichael triplets and the men that would inherit the company if the women failed to fulfil the terms of their father's will and I've got to say that this story was another extremely engaging and compelling read. The heroine, Ava, is a woman that needs to have fun and appreciate life more instead of being such a workaholic and I liked how Parker was determined to show her. However, it was from the moment Ava and Parker come face-to-face for the first time that had smiling because Ava doesn't do anything without considering every option and how it'll be beneficial for her. Does Parker have more pros than cons?
"You think sweet is already taken."
"What do you mean?" she asked even as she arched into his touch.
"Cori gets to be the fun, free spirit who gets to play, and Brynn gets to be the sweet, bookworm who gets to experiment. You think that leaves perfectionist, workaholic for you."
Both the main characters were fantastic and I loved every moment they conversed, as Parker works his cooking magic on Ava and helps her to realize that if you enjoy food than it may help her in her baking endeavors since her strengths in negotiation and being analytical in order to get what she wants won't do her any good. Then again, Ava's resilient, determined and I liked that she doesn't give up, even though she can't bake to save herself. Yet, what I liked most of all about Ava was that she's loyal and would do anything for those she loves, which is proven by her need to take care of everyone by being the hard-working woman she is. While the hero, he was a very interesting hero that had me laughing at times because he's set in his ways, which is proven by how he expects everyone to follow the rules of his restaurant, and if people don't, he isn't afraid to call them out. Is it guilt for mistakes he made in the past that make him act the way he does? I also liked how willing he was to help Ava, considering – it seems — she doesn't give him much of a choice. Yet, what I liked most of all about the hero was his determination to win over the heroine, especially since things get just as heated in the kitchen as they do in the bedroom once these two finally get physically intimate.
Overall, Ms. Nicholas has delivered another absolutely brilliant read for this series where the chemistry between this couple was powerful; the romance explosive and does this couple's chemistry justice; and the ending had me loving what Parker does to prove to Ava that he wants her in his life. Then again, he does need to make things right after the way he reacts to her plan to prove she wants to be with him too. I would recommend High Heels and Haystacks by Erin Nicholas, if you enjoy boss-employee romances with a twist, small town romances or books by authors Samantha Chase, Catherine Bybee, Melissa Foster and Melanie Shawn.

Book Info:

Publication: April 10th, 2018 | Self-Published – Erin Nicholas | Billionaires in Blue Jeans #2
A boss-employee romance…with a twist
Only three things stand between Ava Carmichael and her twelve billion dollar inheritance:
1. A year of living in Bliss, Kansas.
2. A relationship that lasts six consecutive months.
3. A pie.
Ava has run a multi-billion-dollar company, negotiated with shark investors, and hobnobbed with business royalty, but she's about to be defeated by her inability to turn sugar, flour, and apple pie filling into something edible.
Conveniently, the owner of the diner next door, Parker Blake, is magic in the kitchen. And he technically works for her. So she can make him teach her to bake. And, hey, if everyone assumes they're heating up more than the oven during their time in the kitchen…well, that's called multitasking.
Parker Blake likes his women the way he likes his coffee: not in his diner. But gorgeous, strong-willed, type-A Ava clearly isn't going to stop messing up his kitchen—or his simple, stress-free small town life—until the conditions of her daddy's will are met. So, sure, he'll teach his "boss" to bake.
But once the kitchen door closes, it's pretty clear who's really in charge.