In His Alone (For Her #2) by Alexa Riley, Security expert Paige Turner has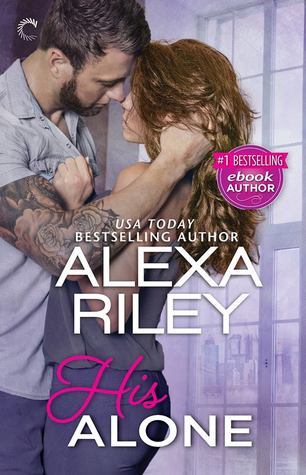 never been in love. With the way she was raised, it's a wonder she even trusts her best friend Mallory. But if she's being honest, Paige does have a crush on her boss Ryan Justice, aka Captain America. He's devilishly handsome, protective, and good to his core. She'd love to have some alone time with him but she knows her dark past could harm him so she resists. Until Ryan makes the first move. Then it's game on and things get hot and heavy fast, only to come to a halt when Paige uncovers a secret that has her wondering if she can trust her Captain after all.
'He's made it known he wants me, but he's normally a gentleman about it. This is different. It's dirty. And a small part of me likes the idea that maybe he just does dirty with me. That something about me makes him talk to me that way. That he can't control himself and I bring out his barbaric side.'
Ryan has spent several years secretly keeping an eye on Paige, aka his feisty kitten, and ensuring she remains safe. She may not know his background or how he came into her life, but he will do everything in his power to protect her. And that means that her need for revenge against her father is something he'll assist with in any way. But just when it looks like Ryan and Paige are on the fast track to a HEA, her trust is shattered and it will take one final act to show her how seriously he takes her safety and just how much he truly loves her. Hopefully it will also secure the future he's been praying for with his sassy little kitten.
"I promise to love you without hesitation, without exceptions and without a single doubt. You are mine until the earth stands still and there's not a breath left in me."
Warning: Must enjoy insta-love and hunky overprotective guys to read this one!
It was spitfire Paige vs. Captain America lookalike Ryan in His Alone, Alexa Riley's second smokin' hot book in the For Her series. Full of big attitude and intense chemistry, I had lots of fun watching these two deal with their feelings and in Paige's case, finally letting someone into her heart.
"This isn't the end, Paige." He rubs his thumb across my bottom lip, and my heart beats hopefully. "This is how our story begins."
Okay, so I know not everyone is a fan of instant attraction, insta-love, or over-the-top romances. I'm good with them as long as I know what I'm getting into before I start reading. And if you've ever read duo Alexa Riley's work or have at least perused their reviews before, you know you're going to get a super sexy, hot & steamy story with very overprotective, slightly stalkerish–but caring–heroes. Thankfully the heroines they create are up for the challenge, being smart and spunky enough to deal with their grumbly love matches. That was definitely the case for Ryan and Paige.
The relationship between Paige and Ryan was a bit complicated. They worked together in the security department at Paige's half brother's company and had this push and pull between them of almost flirting but mostly bickering. I liked that we got both of their POVs and how each time we switched back and forth we learned more about the secrets they were keeping. Ryan wasn't quite who he seemed, not in a bad way, while Paige had a vendetta against her father. I admired the fact that Ryan was an honorable man and would do anything to protect her. And I have to say that watching Paige fight her emotions and fall helplessly in love with her Captain America was such fun. For as stubborn as they both could be, they were also quite cute and uber romantic together.
You can read this as a standalone, but I would suggest reading Everything for Her first as this picked up where the core story in book one left off. Especially since we finally got a resolution to Paige's past with her father, and learned secrets the main characters had been hiding. This was some seriously steamy goodness here!
Book Info:

Publication: March 28th 2017 | Carina Press | For Her #2
Ryan Justice may be her boss, but nothing will stop him from making her his. USA TODAY and #1 ebook bestselling author Alexa Riley entices with a brand-new, full-length novel.
She thinks I'm perfect. A good boss, a good man. She thinks that I play by the rules.
She has no idea who I truly am. Why I'm really here.
Paige Turner is trying to outrun her past, but there it is, tossed back in her face anytime she manages to get two steps ahead.
She has no idea what a man like me will do to get what he wants.
Her need for Ryan got in the way of revenge, took her off course. Redirected her focus. Before she knew it, he'd made his way into her life. Into her heart.
I'm dirtier than she knows. She thinks I'm good to the core, but she doesn't know the things I've done. The things I would do for her.
True love doesn't let secrets as big as these stay buried. And when the truth about Paige's father is finally exposed, Ryan will do anything to fix everything. Paige has always been his and his alone.