His Hometown Girl by Karen Rock: To Jodi Chapman it seems like the hits keep coming. She has a loser of an ex-husband who walked out and hasn't seen their son since. Her son has autism and since her ex took off hasn't spoken. Then when he finally gets into a school that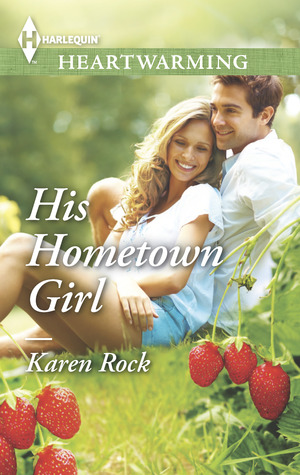 the doctors think will help him she finds out the cost. It definitely was not in the budget. Then her boss offers her a shot, go back to her hometown and buy farm land for the company. The only thing standing in her way? Yep a man, and not just any man, THE man.
Daniel Gleason has been fighting Jodi's company for a while now. He wants to keep the farms local and has even done some research to start a Co-Op for the local farmers. So between that, his sister's PhD status and his father's worsening Parkinson's he doesn't have time for relationships, or does he?
Jodi and Daniel have to figure out their past and see if their future can hold not just the two of them but Jodi's son and a few relatives. Will they both be able to see the real prize at the end?
Ms. Rock has certainly hit it out of the ball park on this one. While there isn't a lot of sex, there is the old fashioned falling in love and romancing. There are some slowish parts but overall this was a very well written book that allowed me to fall in love with both the main characters but the secondary ones as well. This is a great feel good romance.
Book Info:

Publication: March 1st 2014 by Harlequin Heartwarming
He'd always managed to best her…
Jodi Chapman will do whatever it takes to get top care for her autistic son. If that means going home and convincing local farmers to sell their land, so be it. Even if her biggest opponent, childhood rival Daniel Gleason, is equally determined to convince farmers to buy into his co-op plan. And he's not playing fair.
Facing off against Daniel is the last thing Jodi wants. The attraction that's always fueled their competitiveness is as strong as ever and just as distracting. But with both their futures on the line, and years of distrust between them, how can they ever be on the same side?