His Innocent Seduction by Clare Connelly: Millie is on a quest to see the world. After putting her life on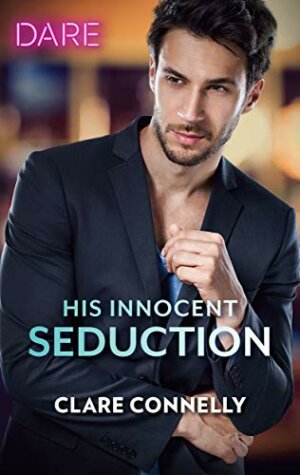 hold, she's ready for new experiences and plans to travel the world while checking locations off her list. Working at a pub in Dublin is a great start, and she can't wait to experience Paris next. She's enjoying her freedom and ability to change her plans.
Michael is a top defense lawyer. He pretty much has it all between his drop-dead good looks, suave, charm, jet-set life, and all the women he could possibly want. The last thing he wants is a relationship, love, or to need someone in his life.
Millie has one foot out the door, but there's one experience she doesn't want to miss out on before leaving. After two months of doing her best to ignore the chemistry with a pub regular, she's ready to make her move. Michael has been frustrated by how Millie ignores him and the attraction between them, so he's not about to say no when she propositions him.
'I thought we decided that didn't matter?'
'It matters to me.'
'Why?'
'I thought I was asking the questions?'
'Indulge me.'
Millie is bold and assured in pursuing Michael. Turns out that Michael is more than she bargained for and he has his own demands. The simple night she imagined becomes much more complex as they embark on a fling. From showing her all she missed out on to seeing the sights, they get to know each other and have to battle their growing feelings.
'Yeah?' I ask, my voice almost unrecognisable for how deep and throaty it emerges.
'I think you're…'
I drop my head, brushing my lips against hers. 'Yeah?'
'Too much,' she says simply but she smiles, and it's a huge smile that makes her face glow.
His Innocent Seduction is intense and steamy. Clare Connelly developed an opposites attract romance with plenty of lessons in seduction. Ms. Connelly provided banter, heat, and romance. Fans of Avril Tremayne and Zara Cox will enjoy His Innocent Seduction.
Book Info:

Publication: Published July 1st 2019 | Harlequin Dare | Guilty as Sin #2
One night isn't enough… to initiate her into the world of sexual pleasure!
I enjoy the finer things in life – aged whisky, gourmet meals, beautiful women. So when sweet virgin Millie Davis propositions me, I vow we'll savour every moment…for longer than one night! Now, I'm tutoring her in exquisite physical passion. It's completely no-strings – love is too dangerous a game. But how can someone so innocent bring me to the brink of losing control?