In The Cactus by Sarah Haywood, Susan Green doesn't recall a time when she didn't like things orderly and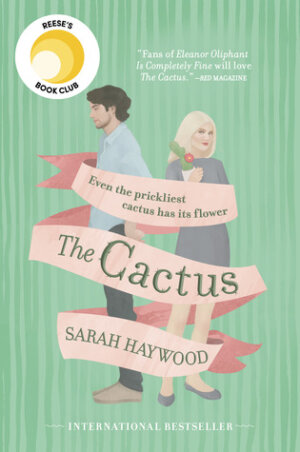 tightly controlled. And particularly after her rather tumultuous childhood, she revels in her pragmatic ways as an adult. From her sensible job as an actuary to her long-time apartment and even her organized social life, Susan has created a routine that works well for her. But when she find herself pregnant at the age of forty-five, having never considered motherhood before, her life slowly starts to unravel before her eyes as a cascade of unexpected events unfold.
'I was starting to wonder if, perhaps, the rational decision isn't always the best decision.'
The next big change is the unfortunate loss of Susan's mother. Ever the most unflappable member of her family, she attempts to organize the estate, not realizing that she and her younger brother Edward would begin a battle of wills that would test them both. Susan isn't quite sure if she can trust her brother's close friend Rob, either. Although after several times in his company, even she has to admit that he is seemingly trying to remain neutral, becoming somewhat of a friend to her over time. As Susan's life gets more chaotic, she begins to realize that maybe acknowledging her emotions as well as learning to let people into her life might not be such a bad thing after all.
'I didn't want to admit that I, just like everyone else, might be subject to such irrational feelings, feelings that shave away your outer layer of protection and render you exposed and vulnerable.'
A solid debut by Sarah Haywood, The Cactus followed our serious and regimented heroine as her life had one unexpected, messy event after another thrown at her. And the overall result was satisfying and oh so sweet.
'My life, as I'd so carefully organized it, was shifting, adjusting. Perhaps not entirely for the worse.'
Set mainly in London, England, The Cactus was part romance and part women's fiction with an intriguing cast of characters. I liked debut author Sarah Haywood's writing voice quite a bit, although I have a feeling that this novel might not work for some readers. Our heroine Susan was, well, stuck in her ways and fairly opinionated–but in a precise, polite British way, if that makes sense. (lol) She was similar in some ways to the heroine in Eleanor Oliphant is Completely Fine, with more of an emotional capacity and connection with others. But where Susan was so stoic and routine-oriented, the story could at times feel like it was moving along a bit slowly, without much really happening aside from chronicling her daily life. The last third of the book, however, picked up in pace and had some real emotional depth–and plot twists!–which turned this from a 3.5 star to a 4 star review.
Susan turned out to be pretty entertaining in her own dry way as she muddled through life in her mid-forties. I liked that she was a more, ahem, mature lead female character which we don't always see much, and that she was unapologetically herself through the whole process. Between losing her mum, her unexpected pregnancy, disagreements with her brother, dealing with two very different men in her life, and navigating a newfound friendship, Susan had her work cut out for her. Of course the secondary characters, as you can tell, were equally interesting and had a huge impact on the story. And thanks to a lot of those people, I think readers will like the way things worked out for Susan and all involved.
If you're looking for some modern British women's fiction with a splash of romance to lose yourself in, The Cactus would be a nice choice. Quirky, touching, and at times heartbreaking, I think its focus on personal and family issues will be relatable for many readers.
Book Info:

Publication: Published May 7th 2019 (first published January 25th 2018) | Park Row |
In this charming and poignant debut, one woman's unconventional journey to finding love means learning to embrace the unexpected.
For Susan Green, messy emotions don't fit into the equation of her perfectly ordered life. She has a flat that is ideal for one, a job that suits her passion for logic, and an "interpersonal arrangement" that provides cultural and other, more intimate, benefits. But suddenly confronted with the loss of her mother and the news that she is about to become a mother herself, Susan's greatest fear is realized. She is losing control.
Enter Rob, the dubious but well-meaning friend of her indolent brother. As Susan's due date draws near and her dismantled world falls further into a tailspin, Susan finds an unlikely ally in Rob. She might have a chance at finding real love and learning to love herself, if only she can figure out how to let go.