His Los Angeles Surprise by Sheryl Lister: is a sexy reunion romance for high school sweethearts who went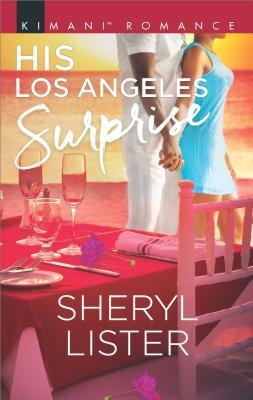 their separate ways and now have a chance to start anew.
Alexis Armstrong is a successful model who uses her money to fund charity initiatives, including helping pregnant African American women who suffer from high infant mortality rates. When she reconnects with her old high school flame Derek Moore at a Prescott George (aka Millionaire Mogul) holiday outreach fundraiser, she 'buys' time with him at a bachelor auction. Their dinner together becomes a sexy one night stand with no plans to hookup again, until Alexis discovers she's pregnant.
Derek has kept his emotions tightly in check for years, since leaving town due to family scandals and breaking things off with Alexis. But he has no intention of shirking his parental duties and offers Alexis marriage and commitment to be a good father. Alexis doesn't want to bring up a child in a loveless marriage so she declines – but she does agree to spend time with Derek and get to know the adult version of the boy she once loved. As they get closer together, can Derek convince her to change her mind and give marriage to him a chance?
I really enjoyed this Los Angeles set second chance romance! There was no big misunderstanding that broke them up as teenagers so nothing to overcome in that regard. Instead Derek had made the decision to leave town after high school and became a successful real estate mogul, after fallout with his father (who had a history of cheating). Now his father has prostate cancer and Derek's two half brothers Trey and Max are trying to get him to make amends before it's too late. His father has been accused of vandalizing the San Diego Prescott George office and the three sons are trying to clear his name. That's a key secondary plot as the romance between Derek and Alexis plays out.
Alexis has some sad history, having suffered an early miscarriage in a previous relationship where she received little support from the father. Once he hears about this, Derek is determined to be very hands on and supportive. He also doesn't stop trying to convince Alexis (in a gentle way) that he wants to marry her. His caring side comes through quickly as well when Alexis asks for his help with her charity to find housing for some of the women in the pregnancy program. They are both fortunate enough to have had successful careers and be able to donate their time and money to the causes they believe in.
After that first sexy night together, it's more of a slow burn romance as Alexis and Derek find themselves taking things one day at a time and adjusting to the idea of being parents. They do find themselves in bed together again in some steamy scenes, and falling in love too. Friendships are also important, with Alexis confiding in her best friend Charlene and Derek bonding with his brothers. Derek and Alexis get their happy ending and things look bright for their new family. I'll definitely be looking for more from this new to me author!

Book Info:

Publication: Nov 1, 2018 | Harlequin Kimani | Millionaire Moguls #8
A millionaire with a wary heart…
And a first love worth repeating
Success couldn't make former model Alexis Armstrong forget the one who got away. When she "rents" Derek Moore at a fund-raiser to show him what he's missed, things don't go as planned.
Their sizzling chemistry reignites…with lasting repercussions. Derek wants to be there for his baby, but Alexis will only marry for love. Can he convince the stubborn beauty he's for real?