In Wedding at Mistletoe Chalet by Dani Collins, Kristen Benz doesn't want to be alone for Christmas, so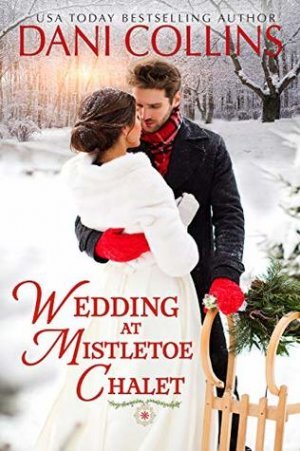 she decides to take a job at Mistletoe Chalet, even if it's just temporary. However, when her high school sweetheart, Finn Garrett, arrives at Mistletoe Chalet, she never imagined they'd get a second chance at forever, especially when they lives miles apart. Will Kristen and Finn find a way to be together or will they go their separate ways again?
"So this isn't the North Pole. It's Happily Ever After," Kristen said in a musing tone.
"It certainly is for me." Wendy glowed with a joy that made Kristen's heart swell in happiness for her and hope for herself.
"Maybe the magic of Mistletoe Chalet will have me stumbling into my own version," Kristen mused.
"Be careful what you wish for, especially at Christmas," Wendy warned with a point of her finger. "It might come true."
What a delightful Christmas themed story Ms. Collins has delivered in this second chance romance where the main and secondary characters and the plot entertained me from start to finish, even though I found this story a little slow to get started. Since it had me wondering when the hero was going to come into it? However, it was from the moment the hero and heroine come face-to-face for the first time where this story really takes off, as Kristen and Finn never imagined they'd see each other again. Since they live in different parts of the country and it's hard for either of them to get back home as often as they'd like because he's a medical resident and she works in a hotel.
As for the dialogue, I really enjoyed the main characters back stories and the way the pair found their way back to each other. Finn has never forgotten Kristen and believes he did the right thing in the past by letting her explore her dreams. But did he really do the right thing? Moreover, I loved the decisions these two make throughout this story, as all the hero was looking for was closure, but he soon finds himself wanting a second chance with Kristen. Will the heroine be willing to give him another chance? I also liked how these two helped the daughter of the people that own the Mistletoe Chalet. The tween girl is looking to do something really special for her dad and stepmom and I loved how they pulled everything off. Such a great team effort, considering they didn't have a lot of money to work with.
"Turns out I'm a homebody," she confessed. "I didn't love exotic places a much as I love the familiar. Which makes me sound really boring." Was that why he had lost interest in her?
"That's not boring. I like vanilla ice cream. Does that make me boring?"
"Have you seen the price of vanilla lately?" she shot back. "It's pretty darned exotic these days."
With the main characters, they've both worked hard to get to where they are in their lives and sacrifices have definitely been made. How many more are they willing to make to get their second chance at happy ever after? I also liked the close relationships these two have with their families, even if they don't get to visit as much as they like. Moreover, the heroine is resilient and courageous and I liked that she's thinking about making a change in her career because the work she does isn't as satisfying as it once was. I also liked the growing friendship she shared with the tween girl she was helping. While the hero, he's confident, hard-working and I liked how determined he was to win the heroine over and discover all about her life in the years since they went their separate ways. Did she achieve everything she'd hoped she would?
Overall, Ms. Collins has delivered a fun and wonderful read in this book where the chemistry between the main characters was intense; the romance was heart-warming and had me hoping for the best for these two; and the ending had me loving how these two prove to each other that Christmas is a time for miracles and that there's no way they're going to let the other get away again. However, it was the epilogue that wrapped this story up nicely, as these two are so happy together. I would recommend Wedding at Mistletoe Chalet by Dani Collins, if you enjoy second chance romances, Christmas themed stories or books by authors Erika Marks, Kaylie Newell, Melissa McClone and Kate Hewitt.

Book Info:

Publication: November 8th, 2018 | Tule Publishing |
Eager for a home-style Christmas while she considers a career shift, Kristen Benz leaps on the temporary job at Mistletoe Chalet. Soon she's wrapping presents, trimming the tree, and helping her new boss's tween daughter plan a Christmas Eve vow renewal for her parents. The holiday is imbued with a magical glow—especially when Kristen's high school sweetheart appears on the doorstep.
After years of medical school, Finn Garrett has promised his parents he'll be home for the holidays. His detour to see his first love is supposed to provide closure, not rekindle their long-ago romance.
Can a matchmaking tween and the magic of Mistletoe Chalet spark the happily ever after that eluded them in the past?