In Panther Prowling (Otherworld/Sisters of the Moon #17) by Yasmine Galenorn, Delilah D'Artigo is a Death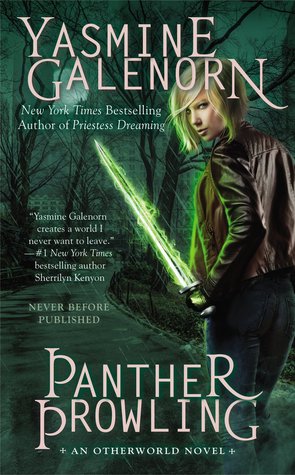 Maiden/were-cat in desperate need of a vacation. She and her sisters Camille and Menolly have been working for the Otherworld Intelligence Agency to help defeat evil forces threatening the Supes–or supernatural beings. The latest crisis they are all facing? Their cousin Daniel gained possession of an ancient sword that has been passed down as a family heirloom, generation to generation. Unfortunately, he didn't get the sword on the up and up. Now Viking ghosts are out to ensure the sword gets back to its rightful owner–the Engberg family–one way or another.
'A shiver ran down my back as Lysanthra, my sentient dagger, woke up. She stirred, and an alarm ran through me as she whispered in the recesses of my mind: Blood…the blade craves it. And it will not rest until the spirit within is freed and his thirst quenched.'
As Delilah, her fiance Shade, and the rest of her family and friends uncover the secrets of the sword, more evil descends upon them. The bloodthirsty king trapped inside the blade gets closer and closer to being released with some help from local malicious beings. Delilah tries to stay one step ahead of them only to find they are not only threatening her, but nearly everyone she loves. Will she be able to protect them all while solving the mystery of the sword?
'We'd witnessed some pretty freaking scary things over the years. We'd lost people we'd loved. And right now, all I knew was that the one thing I couldn't do was lose Shade. I could cope with almost anything, but lose Shade or my sisters? That would be the breaking point.'
What an intricate, imaginative world author Yasmine Galenorn has created for her Otherworld series. In it, we follow three sisters who have the daunting task of saving Seattle from an evil ghost trying to break free of his prison–a centuries old Viking sword.
Book seventeen! If you can imagine, this is book seventeen in the series and I was able to hop right in here and have very little trouble following the plot. There were a lot of characters, but it quickly became clear who was who as the story progressed. Plus there was a list of the major characters in the back of the novel that helped immensely. Now this was labeled as paranormal romance, but it would also qualify as urban fantasy in my opinion. There were so many fantastical creatures and with the amount of action/fighting, my attention never once wavered.
I loved the vibe of this story. It was funky and mystical with a great sense of family. This focused more on Delilah and her relationship with Shade, but her sisters and the rest of her "family" were integral to the plot. I thought Delilah was just so much fun. I mean, how can you not like a self-deprecating were-panther/Death Maiden who can be seen wearing Hello Kitty pj's, and whose nickname is Kitten? That's just one example of the quirky humor that had me chuckling throughout. And I really enjoyed her scenes with Shade, her half dragon/half Stradolan fiance. They had a deep connection and were equally protective of each other. I liked watching their bond grow with every dangerous situation they overcame.
I think fans of paranormal romance and urban fantasy alike will enjoy Delilah, Shade, and the rest of the supernatural beasties who appear in Panther Prowling. With spellbinding action and passionate romance, you can't go wrong.
Book Info:

Published January 27th 2015 by Jove | (Otherworld/Sisters of the Moon #17)
We're the D'Artigo sisters: savvy half-human, half-Fae operatives for the Otherworld Intelligence Agency. My sister Camille is a wicked-good witch with three gorgeous husbands. Menolly is a vampire married to a werepuma. And me? I'm Delilah, a two-faced werecat and a Death Maiden. While the war in Otherworld is expanding, so is my newly renamed PI business. And my next case is about to make life very interesting…
While waiting for Shadow Wing's next move, I decide to revamp my ragtag PI agency into the Cat's Eye Investigations firm. My first client turns out to be our cousin Daniel. During the grand reopening for the Wayfarer, he shows up while being chased by a rampaging ghost. Daniel has procured a rare and valuable sword, and a ring of ghostly warriors comes attached to it. Protectors of the soul trapped within it, the spirits are out to stop anybody who threatens the weapon. As my sisters and I unravel the history of the sword, we quickly realize that the entity locked within the blade is a dangerous king from times gone by—and he's about to break free and try to recover his crown…