In His Mistress with Two Secrets (The Sauveterre Siblings #2) by Dani Collins, Cinnia Whitley is determined to keep the fact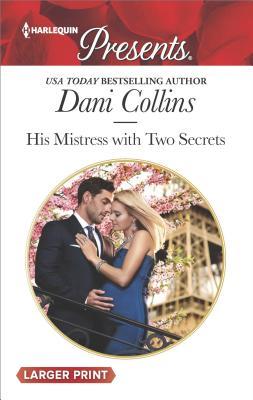 that she's pregnant with twins a secret from the man she'd fallen in love with; a man that swore he could never love her back. Unfortunately, her secret doesn't stay secret for long and when Henri Sauveterre learns the truth, he makes all sorts of demands of her. But with his family already having been targeted by criminals demanding ransom money in the past, how could she blame him for wanting to protect her and their babies? Can Henri convince Cinnia to give him a second shot at happy ever after?
"You are not sorry. Neither am I. I'm not." He cupped her face, tilting it up so she could see he was sincere. "I am concerned. I will worry about our children for the rest of my life. But I'm not sorry to be their father."
She could barely see him through her swollen eyes as they filled with tears of tentative hope. He caressed her cheek with his thumb. "Our children are not something either of us will regret."
This is the first book I've read by Ms. Collins, and I've got to say that I really enjoyed it, because of the way this story started in the present then bounces back to the past to give readers an idea of how this couple's growing relationship started, how long it went for before one of them called it quits, and then returns to the present with the fact that privacy is an illusion. How did Cinnia really expect for her secret not to be exposed, especially with how rich the hero's family is and how they're constantly hounded by the media?
The dialogue was intense due to the main characters back stories, especially with all that the hero's family has faced. What happened to his sister affected Henri big time, and I could understand why it would make him afraid to settle down and have children, knowing the same thing could happen to others he'd come to care for. Yet, at the same time, it was palpable how lonely he was, once he and Cinnia parted ways in the past. However, in saying that, there were some light-hearted moments between the main and secondary characters that had me smiling, especially the moment where Cinnia challenges her mother and some of Henri's family to plan an important event.
"What do you think, Mum? Could you arrange something for tomorrow? Since everyone is here?"
"What?"
"Are you serious?" A smile grew on Henri's lips.
"Are you?"
"Never more." There wasn't a shred of hesitation in his expression. "I love you with everything in me. I can't wait to call you my wife."
Both the main as well as the secondary characters were entertaining, and I loved every moment that the hero and heroine conversed. The heroine is strong and brave with how she handles Henri when they come face-to-face for the first time since they split. Finally, she stands up for herself and isn't about to let him get his way without an argument. Because he's already rejected her once, who is to say he won't do it again? While the hero, he faces a tough challenge in winning the heroine back. She's not receptive to his plans, but luckily it's not in Henri's nature to give up on something he wants.
Overall, Ms. Collins has penned a really good read in this book where the chemistry between this couple was strong and made me certain that everything would work out for the best between these two, no matter what obstacles they faced on their journey to happy ever after. The way this story ended had me concerned for the heroine. Would she be all right? However, it was the epilogue that wrapped this story up nicely, because of the lengths Henri and Connia go to in keeping their relationship exciting, so they don't lose sight of what's important – each other. But what I liked most of all about the ending was the surprise Connia had for Henri. I would recommend The Mistress with Two Secrets by Dani Collins, if you enjoy the surprise pregnancy or second chance romance tropes.
Book Info:

Publication: March 21st, 2017 | Harlequin Presents | The Sauveterre Siblings #2
Pregnant with the billionaire's babies!
After the painfully public demise of her intense fling with renowned tycoon Henri Sauveterre, Cinnia Whitley discovers she's pregnant…with twins! Cinnia burns with the memory of his touch, but bearing a new generation of the Sauveterre dynasty will bind her to Henri forever—unless she keeps it a secret…
Henri is infuriated when he discovers Cinnia's deception. His little sister's abduction ended all his intentions of having a family—but any Sauveterre deserves his full protection. Henri must make Cinnia his wife, and he'll show her just how pleasurable their reunion can be!