Love Story by Lauren Layne: It's no secret that I am a Lauren Layne fangirl. She could write a computer manual, and I would read it…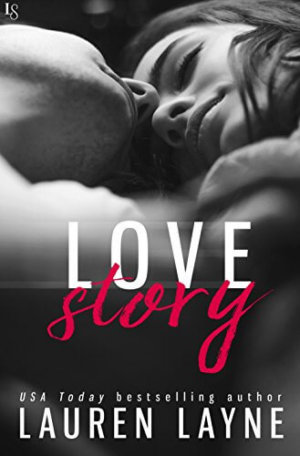 and I'd probably like it. Love Story is the third, stand-alone book in her Love Unexpectedly series. I have read the first two books in the series, but you do not need to read them in order to fully enjoy them. Of course, they are excellent books and should be in your to be read pile if you somehow missed them.
Love Story isn't actually my favorite of the series, but it is a fun, second-chance romance with a sassy heroine and a sexy, brooding hero. Lucy Hawkins and Reece Sullivan grew up together. He is her brother's best friend and basically became a member of their family after his mother died. When Lucy and Reece were eighteen and nineteen, they gave into the attraction they'd felt for each other for years. Reece de-virginized Lucy and appeared to cheat on her the next day breaking her heart. Lucy left for college soon after, and they have not really spoken in years. They are still angry with each other, and Reece blames Lucy for their breakup but she has no idea why.
Both Reece and Lucy are moving from the East Coast to the West Coast, and Lucy's parents scheme to get them to make the cross-country move together by sharing a car on the drive out. Neither are happy to be stuck together in a vehicle for two weeks, and they butt heads constantly at the beginning of the trip. Neither will give an inch. Of course, being in such close quarters and sharing some emotional experiences on the road eventually forces them to confront their past, and they both realize they still care for each other underneath all of their shared pain from the past.
These friends-to-lovers-to-enemies begin to wonder if maybe there is another chapter to their love story, and their drive is filled with funny antics, heartfelt memories and sweet moments. Love Story is on the younger, lighter side of contemporary romance, and it is perfect if you are looking to read something entertaining and sexy but without a lot of overdone angst.
Book Info:

Publication: 2/14/17 | Loveswept | Love Unexpectedly #3
Over the course of one wild road trip, feuding childhood sweethearts get a second chance at love in this charming rom-com—a standalone novel from the USA Today bestselling author of Blurred Lines and Good Girl.
When Lucy Hawkins receives a job offer in San Francisco, she can't wait to spread her wings and leave her small Virginia hometown behind. Her close-knit family supports her as best they can, by handing over the keys to a station wagon that's seen better days. The catch? The cross-country trip comes with a traveling companion: her older brother's best friend, aka the guy who took Lucy's virginity hours before breaking her heart.
After spending the past four years and every last dime caring for his sick father, Reece Sullivan will do just about anything to break free of the painful memories—even if it means a two-week road trip with the one girl who's ever made it past his carefully guarded exterior. But after long days of bickering in the car turn into steamy nights in secluded motel rooms, Reece learns that, when it comes to Lucy, their story is far from over. And this time, they just might have a shot at a happy ending.