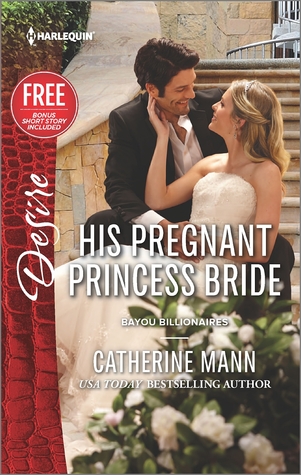 His Pregnant Princess Bride by Catherine Mann: Sometimes it only takes a moment, or weekend or maybe even two weeks, when it happens and really hits you though, that's when all the rules change.
Princess Erika Birgitta Inger Freya Mitras was a rebellious child for certain, but at the youngest of five daughters of a defunct royal family she was tired of being told what to do and how to do it. So after a lovely afternoon she decided she was going to have a weekend full of hot steamy goodness. What she didn't expect where the consequences, after all she had plans for her life.
Gervais Reynaud may not have been actual royalty but growing up as he did and in the family he did, he was all but American royalty. He trusted his gut a lot though and in the matter of Erika he just knew. So after an amazing weekend and then a pretty amazing sight he convinced her that two weeks was what they needed.
The only problem was two weeks wasn't going to be nearly long enough for either of them, but with them both afraid of their real feelings would it be all that either one allows?
Ms. Mann has given her readers an amazing story in the first of the Reynaud brothers novels. This is a great introduction to a family I can't wait to read more about. In typical Mann style the feelings and thoughts are really well characterized and brought to life with very reachable characters. The story line has some twists, but is fast paced and well developed.
Book Info:

Published February 9th 2016 | Harlequin Desire | Bayou Billionaires #1
A princess and a Southern billionaire are expecting twins! Only from USA TODAY bestselling author Catherine Mann!
His focus is on his family's football dynasty. Louisiana billionaire Gervais Reynaud has no time for romance. But he can't say no to a tryst with Erika Mitras. True, she's a princess, but in no way prim…or proper. Their time together is unbelievable…and all too short.
When Erika said goodbye, she meant it. But now she must tell Gervais the truth. He's about to be a father…to royal twins. After leaving her overbearing family, Erika wants nothing from Gervais. But the tempting tycoon just may charm her into a future she desires all too much.