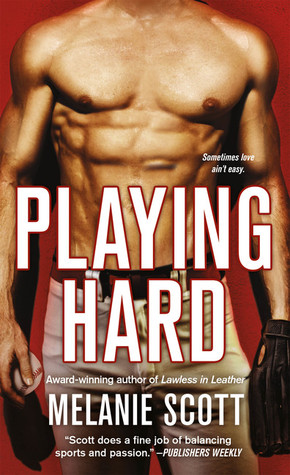 Playing Hard by Melanie Scott: Amelia is devoted to her job and to the Castro's, the family who took her in when her mom had cancer. But then comes along Oliver, the teammate her pseudo-brother Finn hates, but Amelia can't resist.
When Oliver becomes injured helping Finn, and Finn then takes over his position, he's angry and lost, not knowing what there is beyond baseball. The only thing pulling him through are Amelia's visits. The girl he can't off his mind, and the girl who can't commit just yet, not when her job and pseudo-family stand between.
But as they fall harder and harder, Amelia learns how to put herself first, and Oliver finds the first thing he's ever needed beyond baseball.
His attention strayed to the curve of her mouth. It was painted with soft pink. Freshly painted? Had she messed up her makeup eating chocolate? What would Milly the economist taste like if he kissed her now? Sweet like chocolate? Salty like peanut butter?
Well, no time like the present.
Playing Hard drew me in immediately and kept me drawn in all throughout the story. Oliver is an absolute, sexy sweetie pie who I can't get enough of. I just want to read more and more of him. And Amelia is a doll. She's cute, hot, and I love seeing her find her strength in her own desires.
The Finn and Castro family storyline almost was too much, with all the anger and betrayal, but Scott kept it at a manageable level, keeping me intrigued and focusing enough on the romance. I would've loved to see Oliver find a life beyond baseball and to have a greater character arc, but even so I just loved him as my hero.
Also, it was kind of cool to see the injured sports hero and them working around it. I would've loved to see him playing the game, but I like this other vantage point. For any sports romance fans, I highly recommend Scott's Playing Hard. I know I plan on reading the others in her New York Saints' series now!

Book Info:

 February 2, 2016 | St. Martin's Paperbacks | New York Saints #4
HIS GAME NEVER FAILS…
Baseball fanatic Oliver Shields has had his eye on the ball since he was a kid. Playing for the New York Saints is a dream come true, and making the play-offs is a reason to celebrate years of dedicated field work and batting practice. The season isn't over yet, but meeting gorgeous Amelia Graham seems like a bonus grand slam—until one night of partying threatens to take Oliver out of the game for good…
UNTIL SHE THROWS HIM A CURVEBALL…
All work and no play has always been Amelia's motto, earning her a coveted job on Wall Street job and the professional clout she's always longed for. Oliver is a real player—in more ways than one—and a distraction she doesn't need, especially given her dating record. When flirtation turns to attraction so fierce neither one of them can say good-bye, will Oliver and Amelia step up to the plate—and give love a chance?