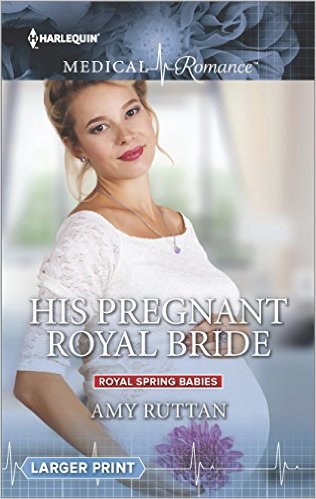 In His Pregnant Royal Bride (Royal Spring Babies #1) by Amy Ruttan, Dante Affini and Shay Labadie never imagined they'd see each other again after their one-night stand while away at a medical conference. Now though, Shay's pregnant and she's determined to tell Dante. However, she never believed he'd make an offer he expected she'd never refuse. But Dante has his reasons and with so much on the line, Shay might not have any choice but to accept his marriage proposal.
"Well I'm not asking you," he said.
"You're crazy." She tried to leave.
He stepped in front of her to block her. "I'm not asking you, Shay. I'm telling you. If I'm the father, we will get married."
What? "You're telling me?" She cleared her throat. "Seriously?"
Dante nodded. "Yes. You will marry me."
I read my first book by Ms. Ruttan not that long ago, and I couldn't wait to read something else by her because I was impressed with the last story I read and I've got to say that this does not disappoint. From start to finish, this book was entertaining and the way it started with the prologue and the instant chemistry these two have from the moment they're introduced together into the story sets the fast-pace of the book.
As for the hero and heroine, I loved them together and the dialogue between them was quite intense because Dante has his reasons for needing to get married. His father has already taken enough from his life and he's not about to let the man take anymore. Not if Dante can put a stop to it, and with Shay's help, he can. Dante is hard-working, loyal and I could understand why he wasn't about to trust Shay at her word when it came to her pregnancy. He's been duped before by a woman and he's not about to let it happen again. The confrontation between his ex and this couple had me smiling, because I liked how Shay stood up for herself and knew when to walk away. However, it made me feel sorry for the heroine because she's not the dishonest type.
"Thank you for the dress." she said. "It's wonderful. I don't feel like a beached whale in this."
"Since when have you looked like a beached whale?" he asked.
"Since this bump is getting bigger," she teased.
He chuckled. "You're beautiful. Radiant."
While Shay, she's strong, brave, hard-working and I could understand why she was so determined not to settle in one place because she's afraid to get close to people for fear of losing them. It also made me sympathize with her reasons for wanting her child to know her father because of what her father did to her. She has so many decisions to make when it comes to Dante. Will she marry him when she never thought she'd get married? Will she leave once her work contract is up? Moreover, I loved her devotion to her job because people in war torn countries and places that have been left devastated by floods, hurricanes, etc need people like her and I could understand why she was so passionate about it because of her mom. Indeed, it was admirable because she wouldn't want someone else to lose a loved one the way she did.
Overall, this was a really good book where the strong chemistry kept me turning the pages determined to discover more about how things would turn out between these two. Will they share any more intimate moments, or is there marriage really only one of convenience? The way this story ended was very emotional and had tears rolling down my cheeks. No woman should ever have to go through what Shay does, but unfortunately it does happen. Luckily, she was in a place where she could get help immediately. However, in saying that, I liked how Dante made things right with the heroine. She meant everything to him and it took a miracle to make him realize that. I would recommend His Pregnant Royal Bride by Amy Ruttan, especially if you enjoy the marriage of convenience trope or if you're looking for a good medical romance.
Book Info:

 February 21st, 2017 | Harlequin Medical | Royal Spring Babies #1
Pregnant with the prince's baby
Nurse Shay Labadie's one exquisite night of passion with Dr. Dante Affini was meant to be a beautiful memory. But now Shay's expecting…and Dante is expecting her to take his hand in marriage!
Dante's proposal is shocking enough, but then he drops an even bigger bombshell—he's not just a doctor, he's a prince! Now to win his child and the woman he loves, Dante will have to prove he can master his most important role yet—as the husband Shay deserves…