Turbulent Waters by Melody Anne: Coast Guard pilot Nick is on leave after his helicopter crashed, he was badly injured, and his entire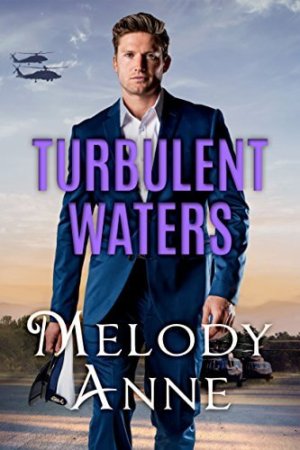 crew was lost. Little does he know, the father of one of his crew members blames Nick for his son's death and has sent in a spy, his daughter Chloe who was hired as his in-house physical therapist, to find information for revenge.
All Chloe knows is what her father told her Nick did, but once she actually gets to know Nick, the more and more she knows Nick would never do anything to endanger his crew. But Chloe knows what could happen if she were to go against her father, so even though her feelings may be deepening, she mustn't act on them.
Nick was not looking for love, not at all. But when Chloe walked in and literally fell into his arms, he knew resistance was futile. The more she resists him and the more time she spends in his company, the more he wants and likes her. But how can any relationship grow when secrets are kept and one is plotting to take the other down?
"I get you all to myself for a full six weeks," Nick said, and Chloe whipped around to see he was far too close to her. She needed to nip this flirting in the bud right away.
She gave him a derisive look. "I'm not interested," she told him in her sternest voice.
His smile grew as he stared at her, not at all intimidated by her remark.
Turbulent Waters just did not work for me. I really didn't like how Nick acted with Chloe. I felt very uncomfortable in a lot of their interactions as he would make a move, and it just didn't feel like he respected or was listening to Chloe as she resisted and said no. He seemed to want her body and not her. And no matter how many times I was told of course he would never force himself on her if she was actually saying no, I did not believe it. The worst part is that they never had conversations. They never did get to know one another, and, in the end, it just felt like attraction and lukewarm love for one another.
What I did like was the conflict, it never felt like it overtook the romance and, even though it was most certainly a serious conflict given the abuse of her father and the deaths of Nick's crew, the story itself wasn't negative. While I may not have cared much for Nick, the story was a light touch and truly focused on the interactions between Chloe and Nick.
Turbulent Waters is the third in a series and it can be read as a standalone. I loved the first in the Billionaire Aviators series, but the one before and this one have not met my expectations. The fourth brother's story is coming out soon enough and definitely looks like an intriguing romance. For those who love the forced quarters roommates or hidden backgrounds I recommend Turbulent Waters by Melody Anne.
Book Info:

Publication: February 7, 2017 | Montlake Romance | Billionaire Aviators #3
A daring pilot finds himself in danger of losing his heart.
Coast Guard pilot Nick Armstrong savors the taste of danger. But after his helicopter crashes into the ocean during a mission, shattering his knee, he encounters a whole different type of thrill when he meets his new physical therapist. Maybe being grounded isn't so bad after all.
Smart, sexy, and deeply guarded, Chloe Reynolds is the type of woman who drives Nick crazy for all the right reasons. But as she tries to help him heal, Chloe struggles to keep her heart—and secrets—safe.
For years, she has been told that Nick is responsible for her brother's death, a "fact" that she slowly learns may not contain the entire truth.
But can Chloe's growing feelings for Nick, and their undeniable chemistry, really overcome a years-long family feud? Or will the past ultimately destroy the future they both desperately want?