His princess by Christmas by Therese Beharrie: Amari Hayes lives in a small town with her young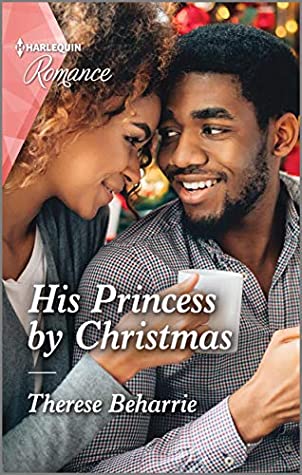 daughter. She has established a small business and is doing well. Her husband left not long after her daughter was born, saying he din't want to be a father.
Things are getting busy with the Christmas season approaching. Amari needs to hire some seasonal help, but is more than a little leery when a tall, handsome man wants a job. He is extremely well dressed and even has another man with him, sho seems to be a bodyguard. Amari gives Kade and his buddy, Peter, a chance to work on a trial basis. She is surprised when they have great ideas for the shop and Peter is excellent with customers and the cash register.
Amari thinks Kade is putting her on when he tells her he is the prince of a small island kingdom and is soon to be made king since his mother, the queen, is stepping down for health reasons. Everything changes when Kade kisses her and paparazzi spread a picture of that all over the tabloids. Can Kade and Amari have a future or will he have to leave her behind for royal duties?
In modern romance, I think strong woman characters are important. The author has truly created one with
Amari. She has a business, but makes her daughter her first priority. Poor Kade has been made fun of and even called the "Oops Prince". His mother has always watched his every move supposedly to make him a proper king, but really has made his life miserable in many ways.
The main characters are well developed, but I had a special fondness for Peter, Kade's bodyguard. He is very protective of his boss, but he is willing to step in a Amari's store and do whatever is needed.
His Princess By Christmas is considered a holiday tale and has festivities included, but is even more a heartwarming love story.

Book Info:

Publication: November 1, 2020) | Harlequin Romance |
When single mom…
…meets crown prince!
Amari Hayes just knew hiring the mysterious Kade would be nothing but trouble. But with Christmas approaching, she needs the help, and there was something about the tall, dark and handsome guy that called to her. Kade is running from something, a painful secret, and Amari knows that feeling all too well… After one incredible kiss, Kade's secret is about to be revealed! Is Amari prepared for the royal consequences?
From Harlequin Romance: Be swept away by glamorous and heartfelt love stories.