The Lost Love Song by Minnie Darke: Sometimes the aesthetic experience of immersing yourself in a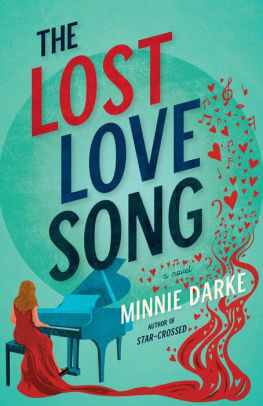 beautifully written, and cleverly conceptualized love story is akin to feeling something of the exquisite nature of love itself. Perhaps more powerfully, the love story will serve to remind us that Universal Truths do exist; love is often inexplicable, painful, tumultuous, frightening, exhilarating, dizzying and despite every conceivable difference across our globe, is something every human shares commonly and collectively.
The Last Love Song reminds us all that music is our first and last language, and through it's multi-layered, multi-charactered narrative, feels undeniably like being wrapped in a soft scarf on a brisk day, or a walk along the beach as the ocean sparkles gold. Quite honestly, everything and anything that you have possibly ever felt when it comes to love reverberates from every page.
Our two simple yet profound heroes Arie and Diana are perfectly happy. Arie, humble and honest, has no idea why the elegant and incredibly talented Diana could fall in love with him and as she struggles to resolve why it is she doesn't feel the need to get married and travel a seemingly ordinary, conventional pathway, her frustration morphs into something beautiful – something she has never been able to just simply say to him. Describing her feelings for Arie and why it is she loves him so terribly and deeply via song, comes in two musical parts.
Initially, our love song is born in their Melbourne home after a discussion with Arie the night before Diana leaves for a month long international tour. And then, on her final sleepless night in Singapore, Diana completes her masterpiece, perfect in it's entirety before she boards her plane the following day to Paris. Unknowingly, Bene, a man in the same Singapore hotel listens in awe as Diana completes the song, knowing in her heart that every sound she has created and weaved together describes what it means to be in love with Arie. The following morning, still mesmerised by the sounds of love, Bene finds that Diana has left her manuscript on top of the hotel piano only to discover she has already checked out, and so, the journey of our love song really begins.
In many ways, Diana's love composition is a metaphorical gift she innocently sends out into the universe. Its one listener, Bene, is fortunate to be slightly musical himself, and as he returns home, he shares his precious find with his daughter Beatrix. And so starting in Australia, traveling to Asia, flying to London, hopping to Scotland, coasting to Canada and trekking into North America, Diana's dedication finds it's way back to Melbourne, perhaps returning to the original man for whom the song was written.
The Lost Love Song is beautiful and sublime, capturing the very essence of what it is to give your heart to someone, to have it filled to bursting and simultaneously have it shattered to pieces. The inherent musicality in the book wasn't simply because it was about a pianist or a song, or indeed people who could play music, but rather the narrative itself was linked together meticulously, punctuated by ordinary circumstance and common people experiencing the multi-faceted nature of love.
Summarily, this is not a quiet or gentle read, and whilst it starts out ordinary enough, before you know it you are in the throws of a crescendo that is deftly metered by one brilliant action kernel to the next. Undeniably, this will not be one that will remain on dusty shelves in back rooms for long – like every brilliant song you have ever heard and experienced, this book simply must be shared.
Book Info:

Publication: 16th October 2020 | Penguin Random House |
This is the story of a love song. And like any good love song, it has two parts.
In Australia, Arie Johnson waits impatiently for classical pianist Diana Clare to return from a world tour, hopeful that after seven years together she'll finally agree to marry him.
On her travels, Diana composes a song for Arie. It's the perfect way to express her love, knowing they'll spend their lives together… Won't they?
Then late one night, her love song is overheard, and begins its own journey across the world.
In Scotland, Evie Greenlees is drifting. It's been years since she left Australia with a backpack, a one-way ticket and a dream of becoming a poet. Now she spends her days making coffee and her nights serving beer. And she's not even sure whether the guy she lives with is really her boyfriend or just a flatmate.
Then one day she hears an exquisite love song. One that will connect her to a man with a broken heart.