His Son, Her Secret by Sarah M. Anderson: It's a good thing to start out with the truth,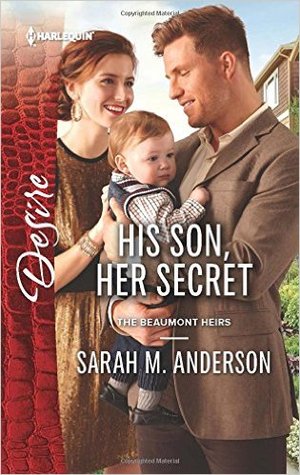 because just one little white lie or one deception at the beginning can mean a whole lot of trouble.
Leona Harper was the typical poor little rich girl. Yes, she was an heiress but her parents were hardnosed and she had no sort of a "real" life. Then she got a job as a hostess and met a man. Even though she tried hard not to she fell in love with him and even knowing who he was she couldn't stop loving him. The only problem is he didn't know exactly who she was, until that night her father interrupted. Now a year later she was still picking up the pieces of her heart and raising their son.
Bryon Beaumont no longer trusted his heart. A year ago he gave it to a woman and to the best of his knowledge she betrayed him. She handed over his soul and his future to her father and then her father destroyed all that was good. So he ran away and ended up in Europe but now a year later he is back and now he wants answers. The problem is what happens when the answers aren't what he was expecting?
Can these two move forward? Or will both of their pasts with their fathers dictate their future?
Wow. Ms. Anderson has given her readers another fantastic novel in the Beaumont Heirs series. The book can be read as a standalone though as the plot and characters are fairly self-contained. The writing flows like a well-trodden path and the emotions portrayed are so real they both break your heart and make you smile through the tears. The trust issues as well as the hidden baby trope themes are well done and a strong woman who realizes the important things are just amazing.
Book Info:

Publication: September 1st 2015 | Harlequin | The Beaumont Heirs #4
Their families tore them apart. Can their baby bring them back together?
For more than a year, Byron Beaumont has tried to get over Leona Harper. Not even living overseas could erase the memory of their affair…or her betrayal. Her family has been out to destroy his for decades, and despite Byron trusting her, making love to her, Leona kept her identity hidden. Now that Byron is back–as her new employer–he wants answers.
But what he gets is another surprise. Leona has given birth to his son. He'll do what it takes to care for his family, even if it means spending days–and nights–wanting the one woman he can't have…