A Glimpse of the Dream by L.A. Fiore: Teagan loses her parents and is sent to live with Mrs. Marks and the staff at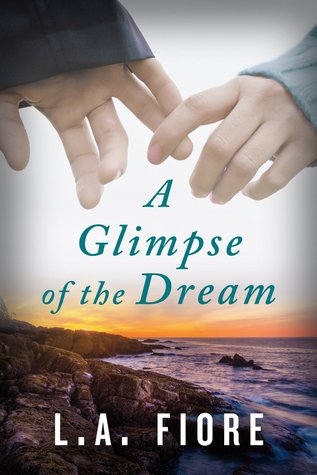 Raven's Peak. The gothic manner is pretty intimidating to the 10 year old Teagan, but she immediately finds comfort in Kane, a boy who is also living at Raven's Peak. They are fast friends and do transition into a romantic relationship while in high school.
"You're not going to share what else in your world could possibly compete with your love of food?"
"I shouldn't need to share it, I think it's pretty obvious," he replied.
In response, my body turned warm all over and my heart rolled in my chest. Could he possibly be talking about me?
He answered my unasked question. "On the Kane's scale of likes, you are neck and neck with food."
Happy and head over heels in love, Teagan goes off to college. Everything seems great between them, but jealousy and distance are a cause for anxiety. Soon enough, Kane has seemingly disappeared without explanation and Teagan is heartbroken. She's left to pick up the pieces and try to make a life for herself without her best friend and soul mate.
When Teagan does return home years later, she's shocked to see Kane again. She's been lost and confused for years as to how she could have even lost their friendship on top of everything else. After witnessing her utter heartbreak, Kane needs to have a really, really good explanation…for everything. With the hints from others, Teagan finally confronts Kane and learns the truth.
The chemistry and connection they always shared was still there, but both are haunted by the years apart. It seems like they might have another chance at their childhood dream, if only they can work through the pain of the past and have the courage to fight for a future.
"You're not the only one who suffered. Seems stupid to continue suffering if we both want the same thing. I want you back in my life any way you'll have me. If you want that too, take the step. You need to make the first move, but know that if you do, I'm all in."
A Glimpse of the Dream is a beautiful story of two soul mates trying to fight through the pain for their second chance. L.A. Fiore created a compelling story with plenty of drama and secrets to keep you hoping for a happily ever after. Ms. Fiore demonstrated the importance of family and friendship throughout life. Fans of Cassia Leo will enjoy A Glimpse of the Dream.

Book Info:

Published July 7th 2015 | Montlake Romance |
Teagan Harper is barely ten years old when she finds herself orphaned and sent away to live at Raven's Peak, a Gothic estate on the seaside cliffs of Maine. Soon, though, her heartache and loneliness are tempered by a blossoming friendship with the only other child living at Raven's Peak: Kane Doyle, only two years older than Teagan and abandoned by his mother. Over the years, the pair grows inseparable. First they're pranksters and confidants, but eventually their feelings change, and best friends turn into soul mates. On the cusp of Teagan's departure for a university in Boston, they share a glimpse into their happily-ever-after and make promises of forever.
But Teagan and Kane's engagement and dreams of the future are shattered when Teagan returns home to find Kane gone from Raven's Peak—and living with someone new. Devastated and heartbroken, Teagan cuts ties with her beloved adoptive home and tries to move on with her life. But years later, when the shocking truth behind Kane's betrayal comes to light, Teagan must decide whether to embrace her new life and let go of her past once and for all, or fight for her dream life with the only man she's ever wanted.