In His Southern Temptation by Robin Covington, David "Lucky" Landon is an ex-Marine in need of some R&R. He's left dangerous missions behind to focus on a new chapter of his life back in his hometown of Elliott, Virginia. Lucky has plans to buy his parent's farm to help out with their financial woes and has also begun investigating the disappearance of a dancer at a local club with the help of his friend Jackson. However busy he gets, his mind is never far from his occasional secret lover Taylor…who just happens to be his best friend Teague's little sister. They've hooked up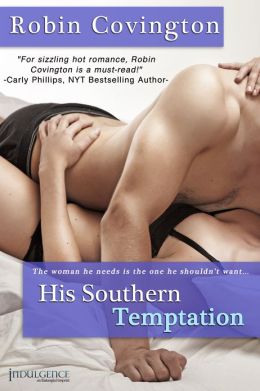 several times over the years, in many locations across the world, and it's always been insanely hot but strictly casual. That is until their last time together about two years ago in Hawaii when Lucky found himself wishing they could take it a step further. When Taylor shows up unexpectedly in town, Lucky thinks this may be the chance he's been waiting for to convince her how good they can be together. Unfortunately the local crime boss interferes and puts Taylor in danger forcing Lucky to take action. Will he be able to save her life so they can build a future with each other?
"The kiss should have been quick, but her taste drew him in like an addict. Lucky was an expert at seducing women, but with Taylor it was anybody's guess on who would be the seducee in the grip of unshakeable desire. "
Taylor Elliott is back in her hometown, under duress, to help her brother clean out their childhood home getting it ready for sale after their parent's break up. She has better things to do than sort through mountains of antiques, like fulfill her dream of opening her own spa in Hawaii. Taylor is shocked to find Lucky staying temporarily in her parent's house but is happy for a chance to reconnect with him for a bit. Their chemistry is just as intense as it has always been and their relationship just as complicated as she knew it would be in such a small town. Lucky is pushing her to stay and see where things will take them but Taylor has been hurt too many times in the past by men. When her life is threatened during her attempt to help Lucky in his investigation, she realizes how much she truly cares for him and has to find faith that he will be able to rescue her in time.
"That's the way she always felt around Lucky—safe and familiar, but perilous and exciting at the same time. It was what had kept her hanging on all these years."
Robin Covington has written a wonderful story! It has hot romance with adrenaline pumping danger and will keep you engaged from the very beginning. This is book two in The Boys Are Back In Town series, but it is easy enough to read as a stand alone novel. I loved that Lucky is the one pursuing Taylor. He has a heart of gold and knows exactly what he needs in his life, but has a difficult time convincing Taylor she can trust him after he declares his love for her. It's easy to relate to her concerns after her jaded history. I absolutely fell in love with the town and all of the characters within. I can't wait to read the rest of the series!
Book Info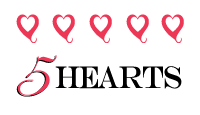 Publisher: Entangled: Indulgence (April 1, 2013)
Some women are bad. Some women are a bad idea. The best ones are both…

As a Black Ops assassin, "Lucky" Landon has had more than his fair share of close calls. Now he's turned in his sniper rifle for the simple life of his small hometown. So the last thing he ever expected was to end up at gunpoint. Or that the woman holding the gun would be his best friend's little sister and Lucky's on-again/off-again lover.
Taylor Elliott is Trouble, and she likes it that way. And seeing Lucky again? Well, he's been her dirty little secret for the past few years and everyone knows that secrets in a small town are almost impossible to keep. But Taylor has bigger problems on her plate. Like the local mob boss who wants her dead.
And right now the only thing standing between Trouble and disaster is a hottie named Lucky…