In His Surgeon Under the Southern Lights (Doctors Under the Stars #1) by Robin Gianna, it's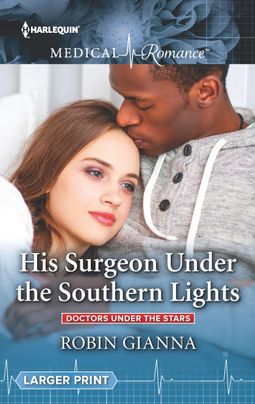 hard for Dr. Zeke Edwards to get close to anyone, especially after the way he lost his family. However, during his recent journey to Antarctica, he finds himself captivated by new colleague Dr Jordan Flynn. Yet, neither are looking for a relationship, even when there seems no hope of the pair resisting each other. Will Zeke take a chance on a future with Jordan before something happens that could keep them apart for good?
My eye mask is somewhere on the floor near the door."
"Eye mask?" He barked out a laugh. "Is it filled with cucumber essence to keep you bright and beautiful?"
"Funny. It's great for travel, so don't knock it until you've tried it. Makes me feel like I'm in a little cocoon, along with the foam earplugs I wear. Helps me sleep on long journeys or in strange places."
"Can I borrow yours to try?"
I love that Robin Gianna and Amalie Berlin have collaborated to make this wonderful duet about best friends (the heroine of each story) working in the Antarctic and finding love in a place they least expected to, especially when Jordan isn't interested in relationships because she's done with finding Mr. Right and Lia is determined to discover why she was left at the altar. Really, neither woman has had the best of luck when it comes to love and I could understand why Jordan is more interested in a fling than finding her soulmate. Will Zeke and Jordan realize their feelings are more than just a temporary fling?
As for the dialogue, it was completely engaging and I really enjoyed the way this story started, as getting to Antarctica isn't the easiest journey to make. Things can get rocky and someone could find themselves needing help, even when they're the most independent person and believe they can take care of themselves. Will Jordan let Zeke help her when she needs help? How much of an uphill battle will he face with Jordan, especially when she's so stubborn and independent? Furthermore, this story was so entertaining because of the main characters back stories and their journey to happy ever after, as Zeke has never gotten over the loss of his family and the guilt he's felt over said loss. Will Jordan be able to help him heal and make him see that what happened wasn't his fault? Will Zeke allow Jordan into his life no matter how scared he is to take a chance on a relationship with her for fear that he'll end up losing her too?
"Tell me what makes you so sexy, Dr. Flynn."
"That I can laparoscopically remove a gallbladder with the precision of a diamond cutter?"
"Ah. I love it when a woman talks dirty to me."
Overall, Ms. Gianna has delivered a wonderful read in this book that was emotionally animating because of the main characters back stories which have made them avoid relationships; and where the chemistry between this couple builds and builds until the right moment where they give into their desire for each other; the romance was delightful and had me loving that these two took a chance on each other because they're good together; and the ending had me worried for one of the main characters because one never knows what danger the Antarctic can bring until they've experienced said danger but left me completely satisfied when this pair realize that their feelings for each other are more than a temporary fling. I would recommend His Surgeon Under the Southern Lights by Robin Gianna, if you enjoy stories where the main characters decide on a temporary fling but realize their feelings are more than temporary or if you enjoy books by authors Amalie Berlin; Ann McIntosh; Caroline Anderson and Traci Douglass.
Book Info:

Publication: September 24th, 2019 | Harlequin Medical | Doctors Under the Stars #1
The lone-wolf doc…meets his match!
Only when exploring the Antarctic's freezing waters can marine biologist Dr Zeke Edwards forget the heartache of losing his family. Until an unexpected, passionate kiss with new colleague Dr Jordan Flynn starts to break through the barriers around his heart. Having both sworn off relationships, they agree to a temporary fling. Then danger strikes…and they're forced to realise their feelings are anything but temporary!