His Taste of Temptation (In The Line Of Duty #3) by Cathryn Fox is an uplifting and steamy contemporary romance. I have been very fortunate to have read many of Ms. Fox's books and each one is just as good or better than the last. This book is first-rate, complete with two made for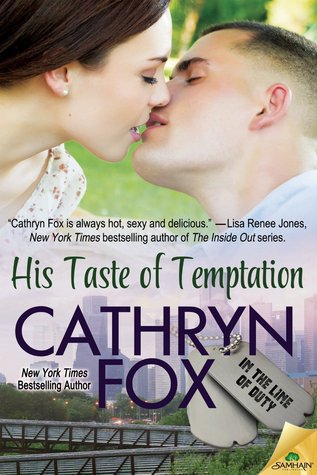 each other characters, desire, and an engaging plot. This story has two of my favorite romance tropes, friends to lovers and best friend's older brother.
Madison Graham is a likeable, down to earth character who is easy to identify with. Growing up, her curvy body caused her fellow students to bully her continuously, and as a result, she has a negative body image of herself. Luckily, her best friend Jonah was around to help her fend off the antagonism. Madison is now a successful baker, living above her bakery while sharing the rent with her still best friend Jonah. Most recently, the old building has been plagued with plumbing problems, which thankfully, Jonah's older brother Brad is around to fix. When Brad is not away on convoy, diffusing old explosives for his former employer, his talents as a handyman and restorer keep him busy.
Brad Crosby is an alpha male with commitment issues. While serving his country in Afghanistan, his fiance was servicing another man. He is a responsible guy who looks after his younger brother, their grandfather and now Madison, since it is now Jonah's turn to be away on convoy. Brad and Madison have always been friends, but overtime, they have begun to see each other differently. They have an amazing attraction, which develops into a future they both never envisioned.
I loved the way Ms. Fox evolved Madison's character, from a wallflower into a woman with confidence. The combination of Brad's dominant tendencies, encouraging words and compliments, slowly enables Madison to feel and look beautiful. Each sex scene is hotter than the previous one, and Brad's control in the bedroom left me breathless. I would have liked a little more detail about Brad's life, in addition to Jonah's future, now that Madison and Brad are together. I really enjoyed this book and the entire series thus far.
Book Info:

Publication: November 4th 2014 by Samhain Publishing | (In The Line Of Duty #3)
Since his last relationship blew up in his face, bomb expert Brad Crosby has lost his appetite for "permanent". But his kid brother's best friend? Now there's a curvy morsel he could wrap his lips around.
For years Brad has been the star of Madison Graham's fantasies. If only she were the kind of put-together girl he prefers, not a pastry chef whose makeup consists of a dusting of powdered sugar on her nose. A belief that's confirmed when her apartment floods and he offers to let her sleep in his bed—alone.
Wrapped in Brad's sheets, she dreams of his touches, his kisses, the feel of his body on hers. Except her dreams feel like reality—and come morning, she realizes it wasn't a dream at all.
Soon the two are burning up the nights. But as Madison's sweet love grows on him, Brad can't help but think of extending their time together.
Too bad Madison keeps reminding him their affair has an expiration date.