His to Protect by Karen Rock: Fear is a great motivator. Fear of not living life to the fullest, fear of never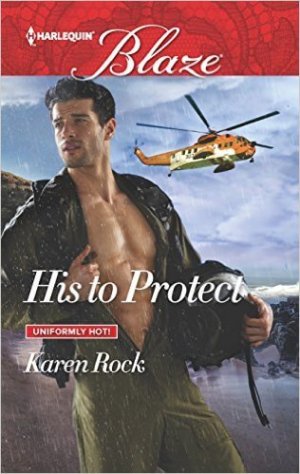 getting over loss, fear is one of the most motivating emotions.
Cassie Rowe knew about fear, but for her anger was what was motivating her, or at least that was what she thought. Once past the anger then she realized it wasn't really anger at all. However between the loss of her brother and her upbringing she just wasn't able to see what may have been clear to anyone else.
Mark Sampson might bite your head off if you called him afraid, but deep down he knew it. He lost a man on his last rescue mission and he knew that was affecting him more than he wanted to admit. What he really needed was a stop button on all of the feelings he was having and then he saw her. So correction, he needed her.
A one-night stand that was all Cassie and Mark were looking for, no last names, no promises. Fate has a twisted sense of humor though. Can these two work through their grief and realize that what tears them apart may bring them back together?
This is a hot yet difficult read. The plot is amazing and the words leap off the page to help you actually see the connections between these two. It's a difficult read because Ms. Rock has captured the grief and the loss of a man who was much admired between these two in an incredibly moving way. This read will tug at your heart almost as much as it tugs at your panties. Can't wait to see what the next one has in story.
Book Info:

Publication: Published September 20th 2016 | Harlequin Blaze |
Subject: Lt. Commander Mark Sampson
Mission: Keep his eyes on the skies…despite one sexy distraction!
There are things a man can never undo. For Coast Guard search and rescue pilot Mark Sampson, it was the agonizing decision that cost him a teammate—and his faith in himself. But an unbelievably sexy blonde on a secluded beach may help him forget…if only for a night.
Cassie Rowe needed a distraction—and, boy, did she get one! How was she to know the brooding stranger who rocked her world was the pilot who'd left her brother to die? And now they're on the same mission. She should hate him. But she can't fight the storm of desire threatening to pull them under…