Lured In by Laura Dreary: Jessie loves living and working at the Buoys. It's been her home and the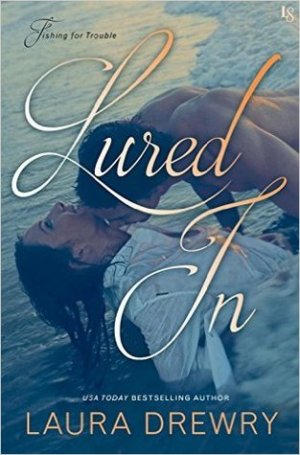 O'Donnell's her family since they took her in at 17. She runs their fishing lodge and keeps the brothers from killing each other. She's just as determined as they are to save the Buoys and keep it running for years to come. And having the TV show Hooked feature their lodge is just what they need, except the host just happens to be her ex.
Finn loves his job as he gets to fish and teach others how to fish almost every day during the season. He doesn't want to go back to the days of living in a city and finding other work. He never imagined that a show as popular as Hooked would be interested in the Buoys, and he was thrilled they landed such a well-known show. Or he was thrilled until he learned of Jessie's connection to the host.
With the TV show coming, Jessie decides it's time to tackle her fear of the water. It's not exactly easy to live on the water when she's so deathly afraid of water and what it represents. She's always been closer to Finn, so she asks him to help her conquer her fear once and for all. It's a great idea, but that means spending more time alone together and she's confused by her changing feelings for him.
"Right, then," she said, tapping her fingers lightly against her thighs. "I think I'll go to bed."
"Yeah," Finn muttered. "I think I'll join you."
They both froze for a second, Jessie's smirk making Finn blush as he fumbled his way around his gaffe.
"In walking down the stairs to our separate bedrooms."
Finn has always seen Jess just a little differently than his brothers. He doesn't want to change the dynamic, as they live and work together, but she's the one woman who gets him and calls him on his crap. Finn is a patient man, but their connection is too much to simply ignore. He doesn't have a great track record with relationships and he only has so much time to lure her in before her ex makes his play.
Instead, she clicked her tongue and whapped his shoulder with the back of her hand.
"Well, what the hell were you waiting for-an engraved invitation or something?"
"What-?" His choked surprise morphed into a defensive chuckle. "Seriously? And risk having you punch my teeth down my throat? No thanks."
Lured In is a fun and entertaining friends-to-lovers, workplace romance. Laura Drewry had a good balance of the fun, lighthearted moments with the more serious baggage each carries. Ms. Drewry wrote fun and flirty banter and provided great characters. Fans of Kendra Leigh Castle, Lauren Layne, and Julia London will enjoy Lured In.
Book Info:

Publication: Expected publication: September 27th 2016 | Loveswept | Fishing for Trouble #2
The O'Donnell brothers continue to cast their lines and find love at the Buoys—their magnificent Pacific Northwest fishing haven—in this alluring romance from the bestselling author of Off the Hook.
Seasick. That's how Jessie Todd feels when her best friend and boss, Finn O'Donnell, tells her that the Buoys will be featured on a popular fishing program—which just so happens to be hosted by a guy she used to date. She's still friendly with her ex, but her new feelings for Finn are making things . . . complicated. His life is out on the sea, and though Jessie works at the resort, her paralyzing phobia of water keeps her on land, where she's safe. To take a shot with Finn, she'll need to face her fears—and her innermost desires—head-on.
Finn has been nursing a crush on Jess for a long time, so when she suddenly asks for swimming lessons, he dives right in. Holding her shaking hand as she steps into the ocean makes his heart swell—despite the sinking feeling that she's just doing it to impress that smarmy TV host. Finn doesn't trust anyone with his bruised and battered heart, but he'll be forced to lay it all on the line to keep Jess from being the one that got away.