Sparking the Fire (Hot in Chicago #3) by Kate Meader: WOW! That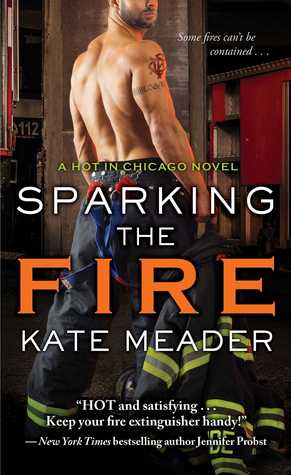 is what I have to say about this third and last installment of the Chicago Fire series. I have read every book in this series, I am so sad to see it end, but I have got to say……what an ending it is. I have been waiting of Wyatt's book since book 1. The dark, handsome, mysterious, secretive member of the Dempsey clan. Well the wait was so very well worth it. This is the amazing and beautiful story of Wyatt and Molly.
Wyatt Fox, retired marine, daredevil firefighter of Engine Co. 6, and member of the Dempsey clan has been keeping a HUGH secret. (Nope, I am not telling you what that secret is, because that would just be wrong and would spoil this review 🙂 ) After an injury that causes him to take it easy for awhile, he is asked/ordered to work as the consultant on a local movie shoot about firefighters in general and his sister Alex in specific. What he did not count on was the woman that has held his heart, has been on his mind since their years ago fling, would also be the woman that he will be working with. The beautiful and unforgettable Molly Cade.
Molly Cade has been through a lot, her parents were killed in a car crash when she was young, raised by a grandmother who did not support her decision to become an actress, and then just when they had made piece, her slime ball of an ex-husband leaks private, personal, and intimate photographs that fling Molly back into the headlines and shakes her to the core. Afraid of every step she takes, trying to rebuild her reputation and her status, Molly is shocked to see Wyatt again after so many years. Even more shocking is the fact that the chemistry that they had so long ago seems to only intensify the more time that they spend together.
When Wyatt's secret is revealed, and the press get wind of Molly and Wyatt's relationship (yep, again leaked by slime ball ex-husband), Wyatt will need to convince Molly that he will always be there to protect her, and to show her that despite the hits that she has taken, inside her beats the heart of a warrior, the heart of the woman that he loves beyond measure and without condition.
All I can say about Molly and Wyatt is WOW! I mean, at times I was balling like a baby, at other times I was laughing my fool head off. Add to the mix, Luke, Brody, Alex, and Gage and you have some extremely amazing entertainment. What I loved so much about Wyatt and Molly is that despite the fact that they are from different worlds, they are so very similar. Both are afraid to love, afraid to trust. Wyatt always felt like less, because of his childhood, he never felt like he deserved the love of the Dempsey family. Always tried to stay in the shadows, out of the limelight. Molly felt like she did not deserve happiness, that she did not deserve Wyatt, that he would see her world, she her life and decide that she was too much of a diva to be bothered, so she tried to give him an out before he could leave her.
I love how it was Molly that made the grand gesture in this book. Usually it is the guy that steps it up, but way to show the girl power in this one. Molly knew that she had done wrong and they she needed to show Wyatt and the world that she had finally found her warrior heart and the it was because of the love, strength, and safety that Molly only felt with Wyatt that she was able to step outside her comfort zone and face her fears.
Amazing, beautiful, tissue worthy and tender. That is what this story is. Kate Meader is amazing and I have no idea how she managed to do it, but I am again, in love with the Dempsey clan in general, and Wyatt in particular.
Book Info:

Publication: September 27th 2016 | Pocket Books | Hot in Chicago #3
Actor Molly Cade, America's fallen sweetheart, finally has her shot at a Hollywood comeback with a dramatic new role as a tough-as-nails firefighter that promises to propel her back to the big time and restore her self-respect.
Wyatt Fox, resident daredevil at Engine Co. 6, needs a low-key job to keep him busy while he recovers from his latest rescue stunt. Consulting on a local movie shoot should add just enough spark to his day. Especially when in struts Molly Cade: the woman who worked his heart over good, and then left him in the Windy City dust.
Their story is straight out of a script: irrepressible, spunky heroine meets taciturn, smoldering hero. But these two refuse to be typecast, and when the embers of an old love are stoked, someone is bound to get burned…