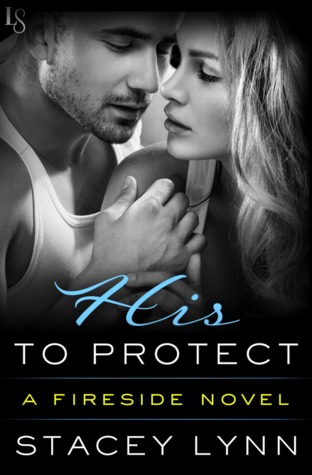 His to Protect by Stacey Lynn is book two in the Fireside Series and can certainly be read as a standalone. In this book, love and healing go hand in hand as two people find love after enduring heartache.
Trina is running from an abusive husband and needs to make sure he can never find her again. When Declan catches her dumpster diving for food for her dog, he shows her kindness by offering a hot meal. Declan knows an abused women when he sees it, so when he sees Trina, his protective instincts come out in full force. There might be bruises covering her face, but that doesn't make his attraction to her lessen at all. The only problem is, she reminds him too much of his ex-wife. When someone breaks into Trina's hotel room, Declan brings her to his home where resisting her is impossible.
While Trina is staying with Declan she realizes that not all men are like her husband. The more they are together, the more sparks fly, but Declan is guarding his heart because of his past and Trina is trying to run away from current life. Together, they just might be able to heal each other…as long as her husband doesn't kill them first.
Declan comes off as possessive yet protective and is totally sexy throughout the whole book. In the short amount of time that he's known Trina, he's able to see more to her than she portrays. He likes what he sees and wants more, but he also wants her to feel safe and not have to look over her shoulder. Even though Trina doesn't want the authorities involved, Declan goes behind her back and ask his good friend from the FBI to help out. If you've read the previous book in this series, then you will recognize the FBI agent as Tyson.
Trina is a very strong female character. When her mom is diagnosed with cancer and can't afford the treatments, Trina decides to stay in her high profile marriage and endure the beatings, so her husband will take care of the bills. Only once her mother is in the clear, does Trina run away. If I was in her shoes, I'm not so sure I would be able to make the same choice she did.
His to Protect is a highly enjoyable read, thanks to the author's wounded characters, page-turning storyline, and easy flowing words. If you love strong heroines and reading about the men who want to protect them, this is a good story for you!
Book Info:

 July 12, 2016 | Loveswept | Fireside #2
A warm home for broken hearts, the Fireside Grill serves up hope and healing in equal measure. Stacey Lynn's sensual, deeply emotional series heats up as a jaded restaurateur falls hard for a woman who's hiding from a damaged past.
Declan James lost his last ounce of trust the day his wife walked out the door, leaving him to save the restaurant they built together. Throwing himself into his work, Declan swears off women—or at least, women who expect him to stick around in the morning. But when he discovers a skittish beauty scrounging through the Fireside's trash to feed her dog, Declan offers her a job and a place to rest her head. There's just something about her that awakens his protective side. And soon, not even that mangy mutt can stop Declan from caring for her.
After one too many trips to the ER, Trina Wilson finally gathered the courage to leave her husband, taking only her car and hyperactive boxer. Unfortunately, life on the run proves harder than she anticipated—until Declan takes a leap of faith on her. But even as Trina starts to see beyond his gruff exterior, she can't relax, even for a moment. Not with her husband still tracking her down. What Trina doesn't know is that in Declan, she has a powerful ally—and, if she would only follow her heart, a devoted lover.