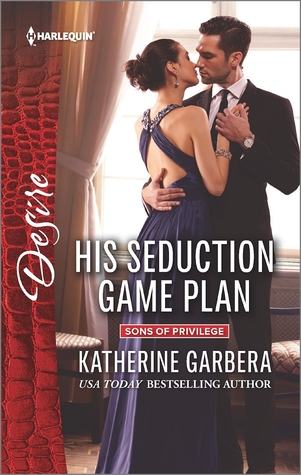 His Seduction Game Plan by Katherine Garbera: Will clearing his past mean wiping out his future?
Ferrin Gainer knew her father had always wanted a son. What's more than that is that he always wanted someone he could "man" around with, so when he got a girl was it too much to ask she at least like sports? Apparently it was, so Ferrin grew up without ever being able to relate to her father. However when he had a heart attack she knew she needed to be there and help him.
Hunter Caruthers had been searching for answers for 10 years. He might find them in his old coaches things, or so he thought, but first he needed access to them which might be easier said than done with his daughter holding court these days. Then he realized he might just like seeing her more and it might help his case.
With a suspected murder charge, a sick father, a former NFL player and a woman who has no clue end up together who knows what is going to happen. With a little luck maybe they can solve the murder and the question of the future at the same time.
This is yet another in an outstanding series that can be read as a stand-alone, although it does wrap up some loose ends from other novels. This plot glides smoothly over the pages and pours out to amazing imagery that helps breathe life onto the page. Ms. Garbera has really outdone herself with this novel. I will say this though there is some heat, some sweet and some intrigue so remember it's not as easy as what you think is right around the corner. This is a must read.

Book Info:

 Published May 10th 2016 | Harlequin Desire | Sons of Privilege #4
After being falsely accused of murder ten years ago, pro football player turned CEO Hunter Caruthers is finally getting closer to the truth. Did his coach frame him? The key to securing the evidence Hunter needs: seducing his coach's daughter, Ferrin Gainer.
Hunter wants answers, he wants revenge…but soon he wants Ferrin most of all. Will his strategy backfire? For her part, Ferrin can't help falling hard for the legendary Hunter Caruthers. Until the full scope of his secret agenda against her father is revealed, leaving her wondering if what felt so real was only a game…