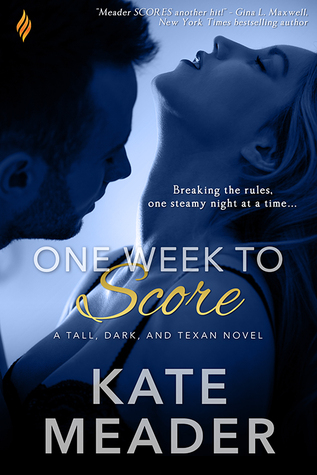 One Week to Score (Tall, Dark, and Texan #3) by Kate Meader is the long awaited conclusion in the Tall, Dark, and Texan series and it does not disappoint. If you have not read the other books in this series, no worries because you can read this as a stand alone. There is a bit of back story given about the characters, but not so much that it weighs down the story with a lot of details. This is the story of Olivia and Flynn.
Olivia Kane is the princess of the Kane family. She is the younger sister of Brody and has forever in his shadow. Never good enough by her families standards, not smart enough, not pretty enough, not thin enough, not lady-like enough. But her brother's best friend Flynn Cross has always been the one that has seen her for more that she is. Has seen the real Olivia, and she has loved him for years. But for some reason after Flynn went into the Marines, he cut all ties with Olivia, leaving her feeling alone, adrift, and again, unwanted. On her wedding day, she finds her soon to be husband and her maid of honor getting it on in the back of the church. Olivia decides that she needs to get away and regroup, get her armor back in place, so why not take advantage of the honeymoon for one.
Flynn Cross has loved Olivia since she was sixteen years old. Never wanting to rock the boat, with her brother Brody being his best friend, with her mother telling him that his will never be good enough for Princess Olivia, Flynn has loved her from afar. When an IED while on tour almost takes his life, he decides to spare Olivia that pain, and asks Brody to keep her in the dark. When he is invited to her wedding, he knows that it is now or never to try and win her. When she decides to go on the honeymoon by herself to engage in random hook-ups, Flynn decides to tag along, keep her out of trouble and convince her to allow him to be her one week hook-up.
When some truths come to light, when big brother Brody tracks Olivia and Flynn down, and when Olivia finds out exactly how her ex and her ex best friend hooked up, it will take fast work on Flynn's part to get Olivia to see that what they have is more than a one week fling, it is a forever kind of love.
OMG! I can say that this book is HOT HOT HOT! Flynn and Olivia have a chemistry that burns the pages of this amazing story. This book made me laugh at their banter, made me cry at their heartbreak, and left me panting when they finally got together. The fact that Flynn stood up to his best friend, letting him know that no matter what he thought, no matter what he tried to do to stop him, that he was going after the one woman that he has loved forever. The fact that Olivia has loved Flynn for just as long, but was afraid that he would eventually get tired of her, find her wanting and leave broke my heart. These characters are so perfectly matched for each other, both a broken, both are looking for acceptance and love and they find that and so much more with each other.
I have loved Kate Meader and her writing forever, and I am sad to see this series come to an end, but I am hopeful and eager for the next series to come. An amazing summer read that will have you wishing you were somewhere on a beach with a drink and a HUNK like Flynn.
Book Info:

 Expected publication: July 11th 2016 | Entangled Brazen | Tall, Dark, and Texan #3
He's the man she loves to hate . . .
Olivia Kane's wedding day has just imploded spectacularly. Shots lined up at the bar? Bring it. Hot stranger on the hook? Come on down. What this party does not need is six feet and change of home-grown Texas cockiness in the form of her brother's best friend, the man who broke her heart seven years ago.
She's the woman he has to have . . .
Flynn Cross won't stand by while Liv finds sensual solace in the arms of a stranger, not when his own hard-for-her body is more than up for the task. For one week, he'll make her honeymoon-for-one a sizzling party for two.
Breaking the rules, one steamy night at a time . . .
But the taboo they're breaking is only the beginning . . . and Flynn's part in Liv's wedding debacle could bring about their end.